UNITED KINGDOM
Friday, July 17, 2020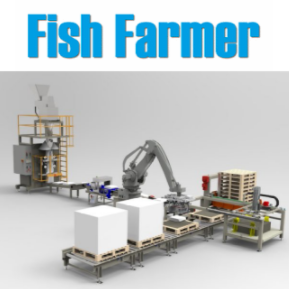 Webster Griffin offers packing solutions for aquaculture

Webster Griffin, based in Crowborough in East Sussex, have been manufacturing equipment for packing fish feed and Salmon food into all types of bags for over 20 years.

Their open and consultative approach means that they benefit from customer feedback, enabling them to continually innovate and update their technology. Webster Griffin strive to develop bagging solutions which, owing to the remote, inhospitable marine locations of most fish feed factories, must pump out production around the clock with minimum down time.

Author: Janice Johnston / Fish Farmer | Read the full article here
---
Other Media | Packaging News: Cepac registers fish and shellfish pack with the IPO

UNITED KINGDOM
Thursday, July 16, 2020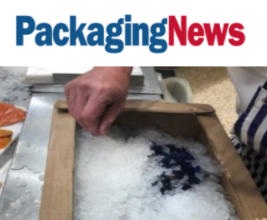 Cepac's corrugated cardboard composition pack for fish and shellfish has been formally registered with the Intellectual Property Office.

The Chiller Pack was developed for Scottish Shellfish by the transit packaging team at Cepac's Rawcliffe site. The design is said to allow for dry transportation of fish and shellfish, to avoid the fresh produce sitting in water, which can compromise freshness. Traditionally, fresh seafood is transported in expanded polystyrene (EPS) boxes.

Scottish Shellfish supplies mussels and oysters to restaurants, retailers and wholesalers across the UK

Source: Packaging News | Read the full article here
---
Other Media | FiskerForum: Queensland goverment's recovery grant for tuna industry

AUSTRALIA
Thursday, July 16, 2020


A not-for-profit fisheries industry group will receive a $50,000 economic recovery grant to help tuna Queensland's fisheries to rebound from the effects of the Covid-19 pandemic.

Minister for Agricultural Industry Development and Fisheries Mark Furner said Tuna Australia successfully applied for a share of the $500,000 Market Diversification and Resilience Grant Program.
'Like other economies around the world, the Covid-19 pandemic hit Queensland businesses hard,' Mark Furner said.

Author: Quentin Bates / FiskerForum | Read the full article here
---
Other Media | SeafoodSource: Vietnam increases pangasius exports to UK, Singapore as other markets decline

VIET NAM
Thursday, July 16, 2020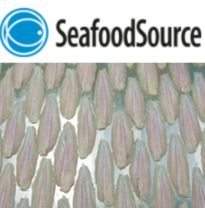 The United Kingdom and Singapore were the only two bright spots for pangasius exports from Vietnam recently, amid downturns in other major markets, according to the Vietnam Association of Seafood Exporters and Producers (VASEP) last week.

From 1 January to 15 June, the pangasius exports were worth USD 612.3 million (EUR 538.4 million), down 29.8 percent year-on-year.

Exports to the top 10 markets for pangasius, except the U.K. and Singapore, saw a negative growth in value in the period. The value of the exports to the U.K. was USD 28.6 million (EUR 25 million), 7.1 percent higher year-on-year, and the export value from Singapore was USD 18.5 million (EUR 16.3 million), up 5.7 percent year-on-year.

Author: Toan Dao / SeafoodSource | Read the full article here
---
Other Media | Alimarket: Sushimore and Carrefour reach a collaboration agreement

SPAIN
Thursday, July 16, 2020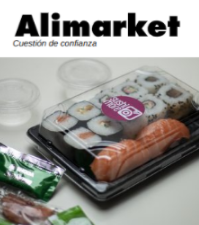 The Japanese food franchise Sushimore and the French distribution chain Carrefour have reached an agreement to include spaces for the sushi brand in the cashier lines of supermarkets, according to the restaurant chain in a statement. These spaces will have the name 'La Barrita de Sushimore' and will be located "in the cashier's line, having maximum visibility". The first of these spaces to start up has been the 'Carrefour' center in Gandía (Valencia). In the words of the CEO of Sushimore, Roger Antelo: "We multiplied the business options of our franchisees, conserving all the power of Sushimore delivery over the natural area of influence of that location. This agreement allows a notable reduction in the initial investment, for franchisees ".
Source: Alimarket | Read the full article here
---
Otros Medios | EuropaAzul: Francia condenada por la muerte de cientos de delfines por la pesca en la costa atlántica

FRANCE
Wednesday, July 15, 2020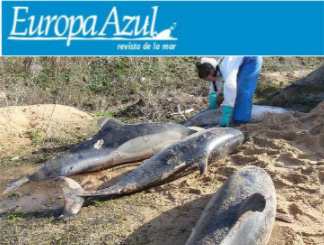 Es una victoria para Sea Shepherd. Esta ONG, especializada en la preservación de los océanos, ha conseguido que el Gobierno francés sea condenado por su falta de protección de los delfines frente a las actividades pesqueras en el Atlántico, consideradas responsables de la muerte de cientos de estos mamíferos marinos protegidos, atrapados cada año accidentalmente en las redes.

Así pues, en una sentencia de 2 de julio, el Tribunal Administrativo de París consideró que el Estado había «retrasado la aplicación de medidas concretas en vista de los episodios recurrentes, desde el decenio de 1990, acentuados desde 2016, de exceso de mortalidad de cetáceos en la costa atlántica, en particular en el Golfo de Vizcaya», incumpliendo así las obligaciones que le incumben en virtud de la legislación europea.

Fuente: EuropaAzul | Lea el articulo completo aqui
---
Other Media | Industrias Pesqueras: The Government sets 2030 as the date to electrify 100% of ports with renewable energy

SPAIN
Wednesday, July 15, 2020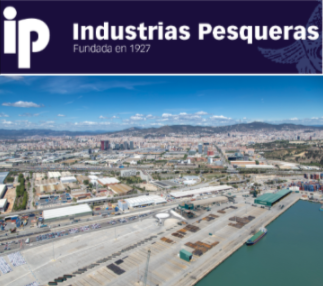 The Minister of Transport, Mobility and Urban Agenda, José Luis Ábalos, reaffirmed yesterday in the Senate that the Government's objective is to achieve, by 2030, that 100% of the ports are electrified, at least with regard to their operations most relevant, originating from renewable energy, informs the institution through a statement. This Government's commitment to the electrification of the ports, including their docks, "is in line with the Strategic Framework of the port system of general interest that includes, as one of the important lines of management and planning, the environmental sustainability of the ports" .
Source: Industrias Pesqueras | Read the full article here
---
Other Media | SeafoodSource: Nova Austral commits all salmon farm sites, hatchery to BAP certification following successful Aracena 19 bid

CHILE
Wednesday, July 15, 2020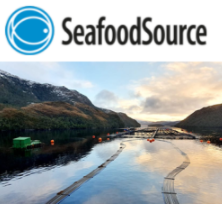 Nova Austral S.A. has entered into the Global Aquaculture Alliance's (GAA) Best Aquaculture Practices (BAP) program with the certification of its Aracena 19 salmon farm site in Región de Magallanes in southern Chile, according to a 14 July announcement.

Starting late last year, Nova Austral's new management team began taking the necessary steps to ensure that Aracena 19 would be ready for its audit in June 2020. SAI Global conducted the site's audit last month, determining whether Aracena 19 satisfied BAP standards for environmental responsibility, social accountability, animal welfare, food safety, and traceability.

Author: Madelyn Kearns / SeafoodSource | Read the full article here
---
Other Media | The Fish Site: Supporting sustainable seaweed farming for East Africa's coastal communities

TANZANIA
Wednesday, July 15, 2020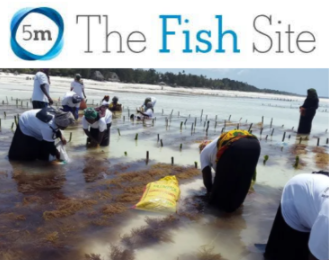 Climate change and unsustainable practices are threatening seaweed farming in Tanzania, an industry that employs over 25,000 farmers, of whom around 80 percent are women. To help address these challenges, The Nature Conservancy is partnering with Cargill, local governments and researchers to empower communities through increased productivity, environmental training and mentorship.
Along the Tanzanian coastline, seaweed aquaculture is an important industry to coastal women and also serves as an alternative livelihood to overharvested local fisheries. However, Tanzanian seaweed aquaculture has been stagnating recently, due to issues that include changing water-quality conditions and poor seedstock.

Author: Lucy Magembe / The Fish Site | Read the full article here
---