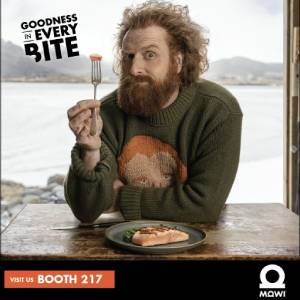 The Seafood Expo will showcase the expansion of the MOWI Brande.
Mowi Returns to Seafood Expo North America After Four Years!

(UNITED STATES, 3/11/2023)
Mowi CP of Americas will be part of the largest Seafood tradeshow happening each year in Boston, Massachusetts: The Seafood Expo North America. With a dynamic booth encompassing two areas, participants can find Mowi at booth numbers #217 and #313.
Mowi will kick off its' return to the Seafood industry show with an impressive booth that is one of the largest ones at the entire event venue. "We are looking forward in greeting our customers in an event that highlights the passion, innovation, and successful products in the Seafood category. The Mowi Booth is only the tip of the iceberg when it comes to our organization's capabilities to serve retail partners. With processing facilities in different parts of the world, Mowi can customize programs utilizing a pool of products and technology invested through the years."
Mówi Booth to exhibit a great variety of products. From Farm Raised Atlantic Salmon to other Fin Fish variety, Mowi will showcase MOWI Brand, Ducktrap Brand and Marine Harvest by Mowi product lines.
"While we were absent from the Seafood Expo, innovation and category growth did not stop. The Seafood Expo will be the perfect opportunity to present a more expanded MOWI Brand with innovative products in the fresh pre-packed, smoked and coated frozen category," said Diana Dumet, Director of Marketing at Mowi CP of the Americas. "We want to surprise the trade audience with variety and uniqueness".
Visit the Mowi Booth and find out new product innovation.
You will be able to taste
food samplings on premise.

"This year, the Mowi booth will have the most extensive product collection ever exhibited at this important event vs previous years in our booth," said Robert Clark, Director of Sales and Business Development at Mowi CP of Americas. "After 4 years being out of this important event in the industry, we are looking forward connecting with the trade community and sharing all that our organization is capable to serve the Seafood space in America." The booth will showcase:
MOWI Atlantic Salmon Fresh Never Frozen (skin packed)

MOWI Atlantic Salmon Smoked

MOWI Atlantic Salmon Coated Breaded (skin packed)

MOWI Atlantic Salmon Frozen in a Box

Ducktrap Smoked Seafood

Marine Harvest Fin Fish Variety

Food Service
George Duran.
But product will not be the only surprise that Mowi has in store to wow the attendants. Mowi will offer a repertoire of delicious tastings that include new breakthrough signature products. A creative menu will entice the palettes of participants all day long starting at 10:00 am through 3:30 pm.
The excitement will continue as Mowi has partnered with Chef, TV Personality, Food Artist and Content Creator: George Duran. Chef Duran will be utilizing dedicated kitchen space in the booth for four live chef demonstrations that will take place on March 12th and 13th.
Mowi's return to this event further emphasizes its' position as an industry leader and its' commitment to leading the Blue Revolution by encouraging consumers to eat more blue foods from the Ocean.

About Mowi
Mowi, a Norwegian company, has consistently delivered healthy and delicious seafood since 1964, and has become a leading aquaculture company. Mowi works with the ocean to produce nutritious, delicious, and supreme-quality seafood, while striving to achieve the highest sustainability standards. Fulfilling one-fifth of the global demand for farm-raised Atlantic salmon, Mowi is determined to reduce environmental impact of seafood production and works exclusively with farmers who follow the most responsible harvesting practices. Mowi has operations in 25 countries and more than 12,000 employees.
Source: Mowi
editorial@seafood.media
www.seafood.media
Information of the company:
Address:
Stortingsgaten 8
City:
Oslo
State/ZIP:
(N-0161)
Country:
Norway
Phone:
+47 21 56 20 00
Fax:
+47 21 56 20 01
E-Mail:
corporate@mowi.com
More about:
Approval / Accreditation / Certified / Oversight by...