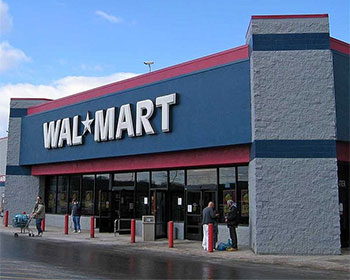 Wal-Mart store. (Photo: Jared C. Benedict/GFDL)
Walmart downsizes following lower sales

(UNITED STATES, 1/18/2016)
Walmart, the largest retailer in the world, announced on Friday it will close 269 stores worldwide, of which over 150 are in the United States and the rest, elsewhere in Latin America, 60 of them in Brazil.
This decision will affect about 10,000 jobs in the US and about 16,000 worldwide.
Those 269 stores that will cease operations represent about 1 per cent of the annual turnover of the chain, which in the last fiscal year reached USD 486,000 million.
The news came along with business figures of Walmart in the US during last Christmas holidays, which were worse than expected, despite the significant discounts offered to attract customers.
Sales increased only 3 per cent in November and December to USD 626,000 million, down 3.7 per cent projected by the US National Retail Federation.
Meanwhile, online sales raised 9 per cent yoy to USD 105,000 million in the same period but were not enough to improve results.
Three months ago, Walmart CEO, Doug McMillon, announced to investors that the company would focus on becoming more agile.
"Closing stores is never an easy decision. But it is necessary to keep the company strong and positioned for the future," said McMillon then.
According to Neil Saunders, managing director of a retail business analysis company, said Walmart's decision is significant, the BBC reported.
"Reducing the number of stores in the US highlights how much the retail landscape has changed in recent years. The blunt truth is that while stores remain a vital part of the retail mix, they are not quite as relevant as they used to be," the analyst pointed out.
In this regard, he stressed that the growth of online shopping, and especially Amazon, has reduced the advantage physical stores had.
Despite 2015's poor end, many economists expect a good performance of the US economy this year.
"We remain fairly optimistic on the U.S. economy," Barclays U.S. economist Jesse Hurwitz said Friday. "We base that view off of our belief that labor markets are the most historically reliable signal on where the economy is."
editorial@seafood.media
www.seafood.media
Information of the company:
Address:
702 Southwest 8th Street
City:
Bentonville
State/ZIP:
Arkansas (72716)
Country:
United States
Phone:
+1 479 273 4000
Fax:
+1 479 277 1830
E-Mail:
info@walmart.com
More about:
Approval / Accreditation / Certified / Oversight by...