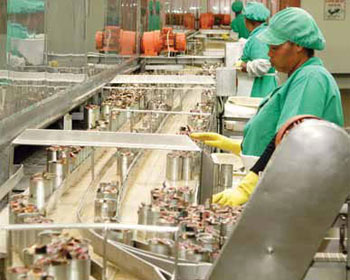 Fish cannery factory. (Photo Credit: Oceana Group Ltd.)
Horse mackerel fishery negatively affects Oceana's results

(SOUTH AFRICA, 5/18/2015)
Oceana Group Limited reported a 'satisfactory' revenue growth for the six months ended 31 March 2015, which was 9 per cent. This result was primarily due to an increase of 13 per cent in the canned fish and fishmeal division and the positive effect of a weaker exchange rate.
However, the Group reported operating profit before abnormal items decreased by 9 per cent over the same period last year.
The Group´s result in these six months were affected by increased horse mackerel quota costs and adverse conditions, offsetting the positive performance of the remaining divisions.
Catch rates in Namibia improved over the period resulting in increased revenue. The Group highlighted it achieved this growth despite the fact that the Ministry of Fisheries and Marine Resources of the country continued to allocate further quota to the new right holders, which resulted in a reduction of the quota held by the group.
In South Africa, in turn, horse mackerel catch rates were significantly reduced due to the continued scarcity of the pelagic resource in the traditional fishing zones of Oceana.
During the analysed period, there was a decrease in South African total allowable catch for pilchard as well as in the Namibian pilchard TAC but pilchard landings at the St Helena Bay cannery were good.
In Angola and Mauritania, hake operations improved as a consequence of stable prices, increased sales volumes and operating efficiencies.
In addition, during this period improved west coast lobster sales volumes aided by higher sales prices and a favourable exchange rate resulted in an increase in profits.
On the other hand, in the canned fish and fishmeal division, there was a revenue growth achieved mainly through inflationary price adjustments, offset by a 4 per cent reduction in volumes for the six month period.
The Group also reported the current season landings of industrial fish to the group's fishmeal plants were higher than the previous season, resulting in improved production efficiencies and lower cost of manufactured product.
Profit from fishmeal operations was above that for the same period last year due to the combined effect of increased volumes, weaker exchange rate and strong global pricing.
During the first half of 2015, the acquisition of the fishing interests of Foodcorp Proprietary Limited -- intended to enhance the groups' hake, pelagic and lobster footprint -- became effective after having been approved by the Competition Appeal Court.

editorial@seafood.media
www.seafood.media
Information of the company:
Address:
16th Floor, Metropolitan Centre, 7 Coen Steytler Avenue
City:
Cape Town
State/ZIP:
(8001)
Country:
South Africa
Phone:
+27 21 410 1400
Fax:
+27 21 415 8601
E-Mail:
info@oceana.co.za
More about: