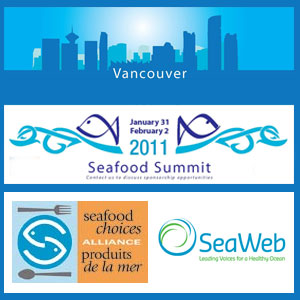 Seafood Summit 2011 will be held in Vancouver, Canada
Seafood Summit 2011 - Responsibility Without Borders?

(UNITED STATES, 5/30/2010)
SeaWeb's Seafood Choices is now accepting proposals for panels, presentations and workshops at Seafood Summit 2011 "Responsability Without Borders?", which will be held from January 31 - February 2, 2011 at the Westin Bayshore in Vancouver, Canada.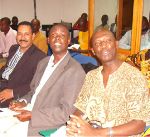 The West African Journalists for Responsible Fisheries were among this year's Seafood Champions
Seafood Summit brings together global representatives from the seafood industry and conservation community for in-depth discussions, presentations and networking with the goal of making the seafood marketplace environmentally, socially and economically sustainable.
The sustainable seafood movement has collectively made great strides in the past few years, arguably the biggest paradigm shift ever witnessed in seafood markets. However the ever-present challenge is to maintain the momentum, and bring in new collaborators from new markets, and from through out the value chain.
The annual Seafood Summit has quickly proven to be one of the hottest tickets in town for seafood professionals interested in learning more about the issues affecting the future of the seafood industry.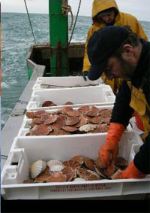 Attendees had the opportunity to visit a scallop fishery in

Normandy

The latest Seafood Summit, "Challenging Assumptions in a Changing World" was held in
Paris
,
France
in January this year and brought together over 640 representatives from 47 countries, which gathered to discuss the current sustainability challenges facing the seafood industry and conservation community.
The 2010 Seafood Summit offered significantly expanded program choices including a preceding workshop dedicated to tuna and an overnight field trip excursion to a scallop fishery in
Normandy
.
The Seafood Champion Awards annually recognize individuals and companies for outstanding leadership in promoting environmentally responsible seafood. Seafood Choices established the award to honor those in the seafood industry whose past and/or present contributions demonstrate a commitment to innovation that leads to change. The winners of the 2010 Seafood Champion Awards were The Co-operative (United Kingdom), Howard Johnson, KLM In-Flight Services, The West African Journalists Network for Responsible Fisheries (REJOPRAO) and Helen York.

The 2010 Seafood Summit concluded February 2nd with reflections by Julie Packard, executive director of the Monterey Bay Aquarium, on the successes of the sustainable seafood movement over the past 10 years, and the challenges to come. "There is no doubt that the earth and the ocean are changing," said Packard. "We're just beginning to understand how ocean ecosystems work. Our job is to design solutions in this changing world."
About Seafood Choices Alliance
Seafood Choices
is an international program that provides leadership and creates opportunities for change across the seafood industry and ocean conservation community.
Seafood Choices is about synergies and identifying creative solutions to long-held challenges. By building relationships and stimulating dialogue, Seafood Choices is encouraging and challenging all sectors of the seafood industry along the road toward sustainability.
About SeaWeb
SeaWeb
is an international, non-profit, communications organization dedicated to creating a culture of ocean conservation. SeaWeb works collaboratively to identify, inform and empower diverse ocean voices and conservation champions in strategic, targeted sectors to encourage market solutions, policies and behaviours that result in a healthy thriving ocean.
SeaWeb transforms knowledge into action by shining a spotlight on workable, science-based solutions to the most serious threats facing the ocean such as climate change, pollution and over-exploitation.
Related News and Articles
Margaret E.L. Stacey
Editor Companies and Products
Information of the company:
Address:
8401 Colesville Road, Suite 500
City:
Silver Spring
State/ZIP:
Maryland (MD 20910 )
Country:
United States
Phone:
+1 301 495 9570
Fax:
+1 301 495 4846
E-Mail:
info@seafoodchoices.org
More about: