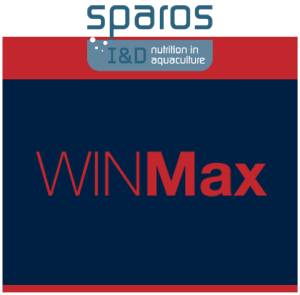 WinMax is formulated specifically for turbot larvae.
SPAROS Launches Innovative Microdiet for Turbot Hatcheries

(PORTUGAL, 3/28/2023)
SPAROS has announced the launch of its latest product, WIN Max, within the Hatchery Feeds range. As a leader in aquaculture nutrition, SPAROS has developed this innovative microdiet to optimize the performance of turbot at marine hatcheries through customized nutrition.

WIN Max has been designed in partnership with key customers and R&D institutions and is tailor-made to meet the evolving needs of hatchery managers. This premium weaning microdiet incorporates a selection of top-quality ingredients that have been thoroughly tested and produced by low-shear extrusion, incorporating microencapsulation of water-soluble nutrients.
Luís Conceição.
It has been formulated specifically for turbot, ensuring good growth and survival at the early development stages. Additionally, WINMax combines high palatability, digestibility and adjusted physical properties to ensure increased uptake by the fish while lowering the impact on water quality.

"We are thrilled to introduce WINMax to our customers and the market at large," said Luís Conceição co-founder and R&D director from SPAROS. "This product is the result of tireless research, development, and innovation. We are confident that it will outperform our customers' expectations while offering unparalleled value at turbot hatcheries."

With the launch of WIN Max, SPAROS continues to build a portfolio of premium bespoke products that deliver exceptional results. This new product marks an exciting new chapter in SPAROS' history.

"At SPAROS, we have a "hands-on" approach towards converting customer needs into new solutions. The close contact we have with our customers and R&D institutions allows us to establish strong partnerships that lead to the development of bespoke products". As João Henriques, Product Manager at SPAROS puts it, "Our customers' success is our success, and we strive to create value for them through innovation and collaboration."
WinMax is a premium weaning microdiet tailor-made for turbot. It is produced with high quality ingredients by low-shear extrusion and includes microencapsulation of water-soluble nutrients.
About SPAROS

SPAROS is a science and technology company that develops new products and nutritional solutions for the aquaculture market. SPAROS has been closing the gap between fish nutrition research and the feeding industry since 2008.

Committed to the sustainable growth of the aquaculture sector, SPAROS fosters the transfer of novel scientific knowledge and expertise of new ingredients and feed additives among feed producers, fish farmers, and manufacturers.
Source: SPAROS

editorial@seafood.media
www.seafood.media
Information of the company:
Address:
Área Empresarial de Marim, Lote C,
City:
Olhão,
State/ZIP:
(8700-221)
Country:
Portugal
Phone:
+351 289 435 145
Fax:
+351 289 715 729
E-Mail:
sparos@sparos.pt
More about: