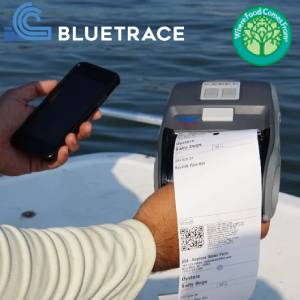 BlueTrace offers a powerful cloud-based traceability solution.
Where Food Comes From, Inc. Announces Investment in BlueTrace Seafood Traceability Company

(UNITED STATES, 4/3/2023)
Where Food Comes From, Inc. (WFCF) (Nasdaq: WFCF), the most trusted resource for independent, third-party verification of food production practices in North America, today announced it has made an equity investment in leading seafood traceability company BlueTrace.
Chip Terry.
Privately held BlueTrace offers a powerful cloud-based traceability solution that helps shellfish harvesters, growers, distributors and dealers comply with government regulations, manage their inventories and optimize profitability. The Company recently completed an oversubscribed stock offering led by leading venture capital and angel investors, the proceeds of which are intended to accelerate BlueTrace's growth plans.
Based in Castine, Maine, fast-growing BlueTrace has more than 350 customers – primarily in the shellfish industry – in all but two coastal U.S. states and most Canadian provinces. The Company's digital traceability solution uses a mobile app and tamper evident barcode tags to replace traditional paper-based tracking solutions that have become more challenging in light of increasingly stringent traceability standards. Those standards are established and enforced by the Interstate Shellfish Sanitation Commission (ISSC), which is particularly focused on safety issues around freshness and temperature.
BlueTrace is expected to benefit from ongoing implementation of the Food Safety Modernization Act, which is expanding traceability beyond shellfish to include other types of seafood beginning in 2023. The Company's software and systems, designed originally to address the oyster industry, are seamlessly adaptable for the broader seafood landscape.
John Saunders.
John Saunders, Chairman and CEO of Where Food Comes From, commented, "We are very impressed with the team at BlueTrace and believe the solution they have developed has the potential to have a major impact in seafood traceability on a worldwide basis. In addition to making a modest investment in BlueTrace, we expect to collaborate with their team in areas that augment our own initiatives in the seafood space, including our FishCARE sustainability standard."
Chip Terry, CEO of BlueTrace, added, "We are pleased to welcome Where Food Comes From as an investor in our business. As the leader in land-based animal and crop traceability and verification, WFCF has a wealth of industry expertise that will be beneficial to us as we expand into other areas of the seafood industry. More than 70% of seafood consumed in North America is sourced overseas, so we see a tremendous opportunity for international expansion by both companies."
About Where Food Comes From, Inc.

Where Food Comes From, Inc.
is America's trusted resource for third party verification of food production practices. Through proprietary technology and patented business processes, the Company estimates that it supports more than 17,500 farmers, ranchers, vineyards, wineries, processors, retailers, distributors, trade associations, consumer brands and restaurants with a wide variety of value-added services.
Through its IMI Global, Validus Verification Services, SureHarvest, WFCF Organic (previously known as International Certification Services and A Bee Organic), and Postelsia units, Where Food Comes From solutions are used to verify food claims, optimize production practices and enable food supply chains with analytics and data driven insights. In addition, the Company's Where Food Comes From® retail and restaurant labeling program uses web-based customer education tools to connect consumers to the sources of the food they purchase, increasing meaningful consumer engagement for its clients.
About BlueTrace

BlueTrace
offers the easiest and most powerful traceability platform for seafood growers, wholesalers, distributors, and dealers. Its mobile solutions, designed specifically for the seafood industry, enable users to reduce redundant data entry and errors, streamline operations, and trace their products from tideline to table.
Source:
Where Food Comes From, Inc.
editorial@seafood.media
www.seafood.media
Information of the company:
Address:
202 6th Street, Suite 400
City:
Castle Rock
State/ZIP:
Colorado (CO 80104)
Country:
United States
Phone:
+1 866.395.5883
E-Mail:
info@wherefoodcomesfrom.com
Skype:
https://www.instagram.com/wherefoodcomesfrom/
More about: