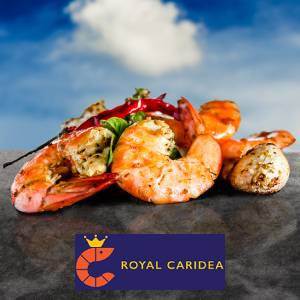 Royal Caridea Shrimp – locally based, locally grown, nationwide reach.
Royal Caridea to Transform the Shrimp Production Industry While Addressing Unmet Market Needs

(UNITED STATES, 9/16/2022)
Royal Caridea (RC) has announced a new round of series B funding of USD 1,065,000 at a valuation of USD 9.59M. This round of funding is being led by Jamie Stein; founder of Fonte Capital and Co-founder of Devonian Capital.
"I invested in Royal Caridea because of the passion, experience, and technical expertise of its founders. Royal Caridea's mission is to produce great tasting, locally grown shrimp and to offer this to customers across the USA all year round, including 'live shrimp' and 'fresh never frozen' options", says Jamie Stein.
Jamie Stein.
"Seafood generally, and shrimp, in particular, are popular sources of tasty and healthy protein. But there are numerous concerns about the sustainability of current shrimp production methods. Consumers want access to options that are fresher, more local, and, importantly, more sustainable".
"The Royal Caridea team has developed a great solution for this challenge. Their patent-protected production method of growing shrimp in a novel stacked raceway system maximizes control while minimizing the footprint of the site".
"I am a co-founder of Devonian Capital, an international investment business focused on land-based fish and shrimp farming businesses with a strong technology component. Along with my colleagues at Devonian I have been investing in, and working closely with, a number of land-based aquaculture projects over the last 5 years. Having followed Royal Caridea's progress for a few years I invested personally in Royal Caridea last year alongside additional investments from my colleagues at Devonian".
Royal Caridea is a company poised to transform the shrimp production industry while addressing unmet market needs and creating significant economic opportunity for investors.
"This sector has huge potential, and shrimp is a very popular product in the USA. Royal Caridea also has huge potential and I'm excited to support this great team!" says Jamie Stein.
This new round of funding will be used to help the company move to its next phase of development. To date, the company has patented its transformative shrimp grow-out technology with patents in the USA and Australia, and pending in the EU. The GEN-2 Production System is ready for commercialization.
The concept of locally grown high intensity farming close to urban population centers is particularly appealing to American shrimp aquaculture interests.
Specifically, the areas that the company will focus on are:

Development of GEN-2 Production Systems to supply year-round fresh, never frozen, and live shrimp

Securing strategic locations within the US and Australia for which to distribute fresh, never frozen, and live shrimp

Acquisition of key Channel Partners who will enable brand awareness, widespread distribution, sustainability, and securing of a high return on investment while allowing direct sales and licensing partners in the US and Australia.
Also to date, the company has raised USD 945,000 in a Series A Priced Round and is seeking additional funds for further development. Active2Tec is ready to purchase RC shrimp for international export.
Danielle Leoni.
RC's Arizona desert shrimp has been endorsed by Executive Chef and Ambassador of the Good Fish Foundation, Danielle Leoni. "I've always seen sustainability through the lens of food and have always been excited to share the exceptional quality and taste of Royal Caridea's Arizona Desert Shrimp. The Arizona Desert Shrimp hit that sweet spot where quality, taste, and availability come together to offer a chef exactly what is needed to deliver an outstanding culinary experience."
To find out more about Royal Caridea, and its raise on Wefunder.com, click here. On Wefunder, both accredited and non-accredited investors will have the opportunity to reserve an investment interest in Royal Caridea's new shrimp production technology.
Royal Caridea is 'testing the waters' to gauge investor interest in an offering under Regulation Crowdfunding. No money or other consideration is being solicited. If sent, it will not be accepted. No offer to buy securities will be accepted. No part of the purchase price will be received until the Form C is filed and only through Wefunder's platform. Any indication of interest involves no obligation or commitment of any kind.
About Royal Caridea
Royal Caridea (RC) is a high-tech shrimp farming company focused on bringing its transformative GEN-2 Shrimp Farming Technology to commercialization. Based out of Avondale, Arizona, the sponsor is currently growing high-quality shrimp in conventional ponds and a greenhouse. Royal Caridea is currently raising equity capital in order to finance the build of its first patented GEN-2, stacked raceway, production system.
Royal Caridea's premium shrimp will compete directly with the upper end of traditional offerings while also opening untapped markets for live and fresh, never-frozen products. The company produces the highly desirable Pacific whiteleg shrimp, Penaeus vannamei.
Source: Royal Caridea
editorial@seafood.media
www.seafood.media
Information of the company:
Address:
12725 W Indian School Rd.
State/ZIP:
Arizona (AZ 85392)
Country:
United States
Phone:
+1 602-339-8995
More about: