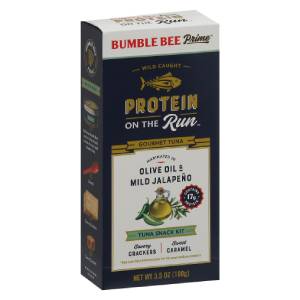 This portable, affordable, and downright delicious snack kit comes with everything you need to shoo hunger away and satisfy your taste buds.
Bumble Bee Seafood Co. is Offering New Premium Products Under the Bumble Bee Prime Line

(UNITED STATES, 11/5/2021)
The Bumble Bee Seafood Co. is offering new premium products under the Bumble Bee Prime line, formerly Prime Fillet. The updated line includes canned tuna and salmon and new on-the-go snack kits.
Bumble Bee Prime canned products include Prime Solid White Albacore in Water, Prime Solid White Albacore in Water (Low Sodium), Prime Solid White Albacore in Olive Oil, Tonno Yellowfin Solid Light Tuna in Olive Oil, and Atlantic Skinless and Boneless Salmon in Water.
With 17gs of protein, the kit contains gourmet, wild-caught skipjack tuna lightly marinated in olive oil and lemon, baked artisanal crackers and a sweet caramel treat.
Bumble Bee Prime Protein On the Run snack kits combine gourmet marinated tuna with savory artisanal crackers and a caramel treat packaged in a convenient, pop-open box. Varieties include Olive Oil and Zesty Lemon, Olive Oil and Mild Jalapeño and Olive Oil and Black Pepper.
Jeanine Lewis.
"The Bumble Bee Prime product line is designed to offer a premium experience that is accessible enough for every day," said Jeanine Lewis, vice president of brand marketing.
"Before we began the process of evolving this product line, we started by talking to thousands of consumers to ensure we could meet their changing needs. We're confident our upgraded Prime line will deliver the flavor, nutrition and variety consumers told us they are looking for."
The new products are available at grocery retailers nationwide, including Albertsons, Harris Teeter, Publix and Safeway.
About Bumble Bee Seafood Co.
Bumble Bee Seafood Co., is a company that produces canned tuna, salmon, other seafoods, and chicken under the brand names "Bumble Bee," "Wild Selections," "Beach Cliff," "Brunswick," and "Snow's."
The company is headquartered in San Diego, California, United States. The brand is marketed as Clover Leaf in Canada. It is owned by FCF Co, Ltd. of Taiwan.
Whether you need a post-workout pick-me-up or a pre-dinner hold-you-over,
Bumble Bee's Prime canned products
has got you covered.
Source: Bumble Bee
editorial@seafood.media
www.seafood.media
Information of the company:
Address:
Petco Park (formerly Showley Brothers Candy Factory), 900 C St
City:
San Diego
State/ZIP:
California (CA 92101)
Country:
United States
Phone:
+1 858 715 4000
Fax:
+1 858 560 6045
E-Mail:
info@bumblebee.com
Skype:
https://www.instagram.com/bumblebeefoods/
More about:
Approval / Accreditation / Certified / Oversight by...