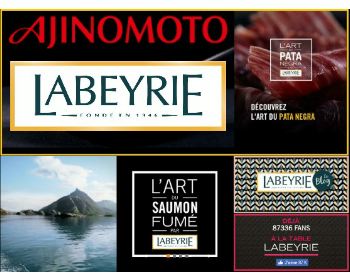 Labeyrie's customers include food retailers and foodservice providers. (Photo: Stockfile/FIS)
Japanese group acquires Labeyrie frozen food unit

(FRANCE, 7/27/2017)
Japanese group Ajinomoto Co., Inc. has signed an agreement with Labeyrie Fine Foods SAS (LFF) for the acquisition of its frozen food subsidiary Labeyrie Traiteur Surgeles SAS (LTS) to further strengthen its consumer foods business in Europe and accelerate growth.
The agreed purchase price, which is based on LTS approximate value of JPY 2.7 billion (USD 21 million), includes the payment for the entire LTS share and the loans that LFF has for LTS, and which will be fixed after AFE adquires all the LTS shares, scheduled for November 2017.
The transaction will allow Ajinomoto to expand and enhance its business platform for frozen foods in France by capitalizing on its strength in gyoza products to expand sales of the Group products through LTS's home-use sales channel, and by selling LTS products through Ajinomoto Co.'s existing restaurant-use sales channel.
LTS is an operating subsidiary of LFF, which mainly manufactures and sells chilled foods such as foie gras and smoked salmon. Its net sales for fiscal 2016 were approximately EUR 50 million.
The frozen food market in Europe recorded approximately EUR 41 billion in 2015, and is growing steadily. The Asian market segment has continued to grow and has reached approximately EUR 500 million in 2016.
In its financial year 2017-2019 medium-term management plan, Ajinomoto Co. has set a key strategy of ensuring growth in its foods products business with a stronger regional portfolio, and aims to be the main Asian frozen foods market by rolling out its specialty products in North America and Europe.

editorial@seafood.media
www.seafood.media
Information of the company: