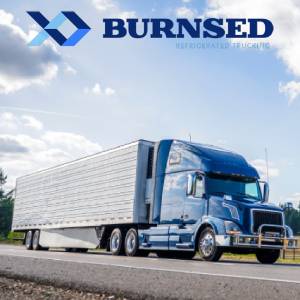 Burnsed Refrigerated Trucking and Express is the go-to company for transporting fresh fish, seafood and other perishable refrigerated products.
Burnsed Trucking Completes Capital Raise

(UNITED STATES, 3/15/2023)
Burnsed Trucking, the category leader in LTL (less-than-truckload) for perishable items with a focus on fresh fish and seafood, announced today that it has closed on a capital raise of an undisclosed amount. The capital will be used for strategic acquisitions as well as to add additional capacity, modernize its technologies, and eliminate inefficiencies.
The refrigerated trucking market is estimated to reach U$15 billion by 2025, up from U$10.5 billion Pre-Covid as capacity remains tight. Craig Daley, Senior Vice President of Operations says, "Burnsed Trucking is well-positioned to re-invest and capitalize on the rapidly growing fish and seafood US market, and as a refrigerated asset-based hauler I'm excited about the future." The company, headquartered in Ft. Pierce, Florida, serves over 200 of the largest seafood wholesalers and suppliers in and around Florida and all along the eastern seaboard, with plans to expand.
For more than 30 years, Burnsed has been the trusted partner in shipping hundreds of millions of pounds of the freshest fish and seafood from Florida and back.
"We have always seen the perishable food hauling business as a recession-resistant business which gives us a positive vision into the future even as other industries like the housing market slows. As we grow to meet market demand, growth must first come from within. We will focus our priorities on employee cross-training enabling career and pay advancement," said CEO Fred Baedorf.
"If and when a recession hits, I believe volume may slow down in some pockets, but we believe that fish and seafood suppliers, wholesalers and buyers will continue to operate, evolve and sustain their business model and grow in new ways as they did during Covid."
The new capital will also enable Burnsed Trucking to modernize its' infrastructure, offer additional services to its customers and add additional team-drivers.
"Our priority has always been based on being on time, and quality work. It's our employees, our trucks, our location, and our 'whatever-it-takes' attitude that separates Burnsed from other transportation cultures," said Shannon Burnsed, President.
"Our customers trust us. We get calls all the time and we are selective but when we bring on a new dedicated customer, we treat them as an extension of our family." With a strong focus on fresh fish and seafood, Burnsed Trucking has earned a reputation as the category leader in LTL for over 30 years. Their commitment to on-time delivery and superior customer service has earned them a 5-star rating in the industry.
About Burnsed Trucking
In 1990, it was a dream come true for James Burnsed, who recognized that the difference between a good piece of fish and a great piece of fish came down to the shipping and handling of it. Shipping fresh fish requires special care and attentiveness.
The safe and accurate handling of seafood is paramount when it comes to expedited shipping and handling. With determination, mindfulness and hard work, Burnsed became an expert in trucking fish and shipping logistics.
He combined this knowledge with his passion for teams and together with his wife, Brenda, took this company from a small 'mom and pop' establishment…to a thriving operation that employs more than 65 people. Their son, James "Shannon" grew up in the industry as his dad's right hand man and started the Express Division in 1998. Today, Burnsed Refrigerated Trucking and Express is proud to be the "#1 choice for hauling fresh fish and seafood."
Source: Burnsed Trucking
editorial@seafood.media
www.seafood.media
Information of the company:
Address:
170 Boyd Road Fort Pierce
State/ZIP:
Florida (FL 34945)
Country:
United States
E-Mail:
info@burnsedtrucking.com
Skype:
https://www.instagram.com/burns_trucking/?hl=
More about: