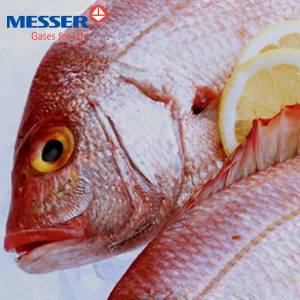 Deep dive into the latest freezing innovations with augmented reality and gas solutions at the 2023 Seafood Expo.
Seafood Farmers and Processors Boost Throughput, Reduce Labor with Messer's Gas Application Technology

(UNITED STATES, 3/2/2023)
At this year's Seafood Expo (March 12-14 in Boston), Messer, a leading industrial gas supplier, will showcase technologies to help seafood farmers and processors "swim upstream" with greater throughput, less labor, and a more secure cryogen supply.
From the latest technologies in individually quick frozen (IQF) products to oxygenation systems, Messer's experienced team helps the seafood industry get their high-quality products from fish farm-to-freezer and safely out the door.
Expo guests can stop by Booth# 788 to learn more about any of the technologies highlighted below. An interactive augmented reality experience will be available to take a closer look at these solutions.
The Messer Wave Impingement Freezer is an innovative high-capacity freezing solution that combines the benefits of wave product agitation with impingement gas flows to give customers new-found levels of flexibility and productivity.
For high capacity IQF products like shrimp, the Messer Wave Impingement Freezer, offers the proven efficiency of nitrogen impingement combined with a fully adjustable wave-action. This newest member of the tunnel freezers family can help seafood processors boost production by up to 20-50%. The wave agitation helps prevent clumping and saves labor, while a rapid freeze can help improve adherence of glazes and sauces, ensuring an even coating and boosting product yield.
Messer spiral freezers allow your frozen foods to be preserved at the absolute peak of flavor, texture, and appearance comparable to fresh foods.
For skin or flexible packaging, fish filets, or even sensitive products like oysters, Messer's family of

Spiral

freezers offer seafood processors maximum flexibility to boost throughput within their existing production facility—even when available square footage is limited. Their low entry capital costs are well suited to the seasonal nature of many seafood processing operations. Attendees can learn about the latest improvements to spiral freezers like the

digital freezer platform

, which continuously gathers freezer performance data, leveraging machine learning to provide seafood processors with unprecedented control for improved quality, greater productivity, and robust traceability.
The Messer wave freezer combines a standard tunnel with a mechanical system that agitates the product as it is conveyed through the freezer.

Compared to chilling with carbon dioxide, nitrogen

blender chilling systems

can be integrated for formed chill-and-freeze products and offer a more secure cryogen supply.

Fish need oxygen to breathe too, and

FARMOX

™ oxygenation solutions offer Recirculating Aquaculture Systems (RAS) improved fish health, increased farming densities and faster growth. Messer's team helps you design redundant oxygen application equipment to help protect fish populations during power outages or natural disasters.
Messer's seafood team will be ready to help processors determine which technologies are best suited to their unique operational challenges.
About Messer Americas
Messer
is the largest privately held industrial gas business in the world, and a leading industrial and medical gas company in North and South America. Messer offers over 120 years of expertise in industrial, medical, specialty and electronic gases. The company delivers quality gases, related services and technology via an extensive production and distribution network. Health and safety, sustainability practices and environmental protection are core Messer
values that are embedded in the company's daily operations.
Messer Americas is part of the Messer SE & Co. KGaA, representing a USD ~3.8 billion enterprise with presence in the Americas, Europe and Asia.
Source: Messer Americas
editorial@seafood.media
www.seafood.media
Information of the company:
Address:
Messer-Platz 1
City:
Bad Soden am Taunus
State/ZIP:
(65812 )
Country:
Germany
Phone:
+49 (02151)379-205
Fax:
+49 (02151)379-309
E-Mail:
industriegase@messer.de
More about: