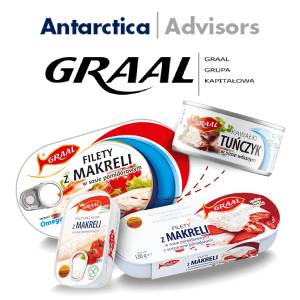 Graal is the leading producer of fish products in Central and Eastern Europe.
Antarctica Advisors Acts in the Sale of Graal Capital Group

(UNITED STATES, 2/21/2023)
Antarctica Advisors International Corp, the leading Seafood Industry-focused M&A advisory firm, and Rothschild & Co, acted as the joint investment banking advisors to Abris Capital Partners and Mr. Boguslaw Kowalski, the CEO and founder of Graal Capital Group ("Graal"), a leading fish processor in Poland, in the sale of its Canning Business to Lisner Holding, a subsidiary of Germany's UTM (Unternehmensgruppe Theo Müller) food group.
Wojciech Jezierski.
The transaction is subject to Poland's antimonopoly office approval and excludes Graal's fresh and smoked fish business (Koral S.A.), produced under the Superfish brand and private label.
Headquartered in Wejherowo, Poland, Graal manufactures canned and chilled fish-based products and prepared foods, branded under the Graal, Neptun and Kuchnia Staropolska brands, and is a major private label supplier.
Graal today operates four manufacturing facilities in Poland, employing more than 2,200 people, and exports to 38 countries across Europe, North America, Asia, Africa and Australia. The company recorded sales of EUR 350m in 2022.
Wojciech Jezierski, partner at private equity fund Abris Capital Partners commented: "During our partnership with Graal and Bogusław Kowalski we have helped create an unquestionable market leader with a diverse portfolio of branded and private label products. It has been a privilege to work with the extraordinary team at Graal. We are proud of what we have achieved together and are delighted that the business has found such a complementary partner in Lisner to continue its growth strategy".
Lisner is an important part of the fish deli salads, dressings and sauces business unit and became part of the Homann business in 2010. As Lisner is excellently positioned in the fish deli segment in particular, the Group's Competence Center Fish was established at the plant in Poznan.
Bogusław Kowalski, CEO and founder of Graal stated: "I'm grateful to Abris, my business partner, for all we have jointly achieved over the past six years, which is more than we thought possible. After 30 years of development of the company, I will step aside at Graal after short transition period. Graal and its management is now looking forward to joining forces with Lisner. The Graal and Lisner businesses have strong product complementarity, and I'm convinced that new owner will create fantastic opportunities for Graal to continue its growth strategy, entering new geographic locations in Europe and globally."
Ignacio Kleiman.
Ignacio Kleiman, Managing Partner of Antarctica Advisors, commented: "This landmark transaction in the European seafood industry marks a successful transition of a founder-owned and privateequity-backed company entering its next chapter as part of the Müller Group".
"Our Seafood M&A team continues to expand its presence in the European Seafood Industry by leveraging our sector knowledge and transactional expertise for the benefit of our clients."
Antarctica Advisors International Corp is an independent investment banking firm providing clients in the Global Seafood Industry with specialized M&A advisory as well as equity and debt capital raising services.
The firm's highly specialized Seafood Team is comprised of experienced professionals with significant knowledge across the Global Seafood Industry, as well as a proven track record of successful transaction execution.
Graal's processing plant specializes in the production of fresh, cold and hot smoked and marinated fish without preservatives.
About Antarctica Advisors
Antarctica Advisors is an independent strategic and financial advisory firm formed by a group of seasoned investment banking professionals with expertise in M&A advisory and private capital raising. Antarctica's team of experienced professionals provide corporate clients with a knowledge-based financial and strategic advise. Antarctica's office is strategically located in Miami, Florida providing close connection to its clients in North America, South America and Europe.
About Graal Group
Graal Capital Group is the largest national producer of canned fish and is the largest in size, revenue, turnover and diversity in the range of the fish processing industry.
GRAAL SA has 4 modern production plants and employs 2,500 qualified workers.
Graal SA is a Poland-based company, mainly active in the fish processing industry. The Company products are sold under the brand names of Graal, Black Rose and Meg. Graal SA is the parent company of a capital group that comprises such companies as Ruskij Caviar Sp. z o.o., Koral Sp. z o.o., Kordex Sp. z o.o. and Polinord Sp. z o.o., engaged in fish processing and the distribution of fish products; Kooperol Sp. z o.o., engaged in the production of canned meat and pre-cooked dishes; Agrofish Sp. z o.o, which produces fish meal; Gaster Sp. z o.o, a producer of fish salads, and Superfish SA, engaged in the preparation of frozen fish products.
The Group's product portfolio includes approximately 250 fish and meat products, which are distributed all over Poland and exported to the European countries.
Source: Antartica Advisors
Previous News
editorial@seafood.media
www.seafood.media
Information of the company:
Address:
1200 Brickell Avenue, Suite 1950
City:
Miami
State/ZIP:
Florida (FL 33131)
Country:
United States
Phone:
+1 305 961 1638
More about: