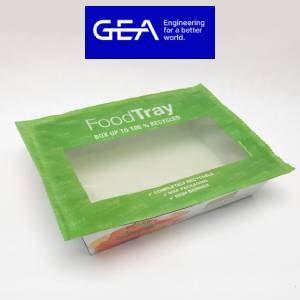 The innovative and fully recyclable GEA FoodTray, made out of paper-based material and 80% less plastic film.
Bespoke Systems Targeting the Harsh Environments in Seafood Processing

(GERMANY, 11/25/2022)
To avoid any risk associated with packaging fresh fish and seafood, current legal provisions and regulations must be complied. Therefore, specific materials are used to safely package these products, guarantee its organoleptic conditions, and arrive to the consumers' table at its finest.
By producing packages, Thermoforming Packaging Machines must meet these high requirements. GEA PowerPak PLUS can handle films like 10K oxygen transmission rate (OTR) thanks to its ability to control tension and edge tracking adjustment unwind system.

Skin packs are very demanded and well-accepted in the fish and seafood market. For this, GEA PowerPak SKIN.50 is the perfect solution as it enables a long shelf life with an excellent package quality. When it comes to sustainable packaging, GEA FoodTray, a combination of paper-based material and film, is a good choice by reducing up to 80% in plastic material.
The GEA PowerPak thermoforming packaging machine packs food products such as meat and processed meat products, cheese, fish and seafood, vegetarian or vegan products, fruits and vegetables or dairy and bakery products. All well-known package types such as MAP, skin and vacuum packs or sustainable solutions including the GEA FoodTray can be produced.
The GEA PowerPak PLUS thermoformer can be configured with special corrosion resistant tooling. This allows it to resist commonly used corrosive wash down procedures and the harsh, salty environments in which marine packaging facilities are commonly located.
Full Integration – More than one product, no problem!
All well-known package types can be produced by GEA Thermoformers PowerPak, PowerPak PLUS or PowerPak SKIN.50: Skin, MAP, vacuum ... all can be produced. For a more sustainable solution, all fish and seafood products can be packed in the innovative and fully recyclable GEA FoodTray, made out of paper-based material and 80% less plastic film.

The GEA FoodTray is a sustainable MAP package with only a thin bottom film reinforced by a cardboard box to allow attractive design and save up to 80% plastic
Process protection
The PowerPak Plus has quick change filter systems or liquid separators to protect the critical working parts of the thermoformer. These work by filtering and separating out any product/liquid carryover before it ends up somewhere it shouldn't, avoiding downtime on the line.
Keep on packing
The GEA PowerPak Plus comes with a vertical sliding seal- ing guard as standard, providing safe and easy access to the sealing station within a second. There is also the potential to use the innovative GEA PowerChange on the sealing and forming stations, cutting down on lengthy changeover times from 30-40 minutes to 10-15 minutes.
About GEA Food Solutions GmbH
GEA is one of the largest suppliers for food processing technology and of related industries. The global group specializes in machinery, plants, as well as process technology and components.
editorial@seafood.media
www.seafood.media
Information of the company:
Address:
Peter-Müller-Str. 10
City:
Düsseldorf
State/ZIP:
(D-40468)
Country:
Germany
Phone:
+49 211 9136-1552
More about: