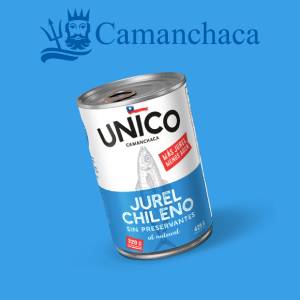 By the end of the year, Camanchaca plans to launch salmon and frozen mussels among other products under the brand.
Camanchaca Launches New Consumer Brand for Chilean Market

(CHILE, 11/3/2021)
Chilean seafood company Camanchaca is launching "Unico", a consumer brand aimed at Chile's domestic market. A canned horse mackerel line is being launched in wholesale and at retail outlets in regional supermarkets in Santiago and Concepion, as well as online and through the company's own points of sale.
Later this year, the company plans to launch salmon and frozen mussels among other products under the brand. Unico is not Camanchaca's first consumer brand. The firm also sells the Pier 33 Gourmet and Camanchaca Gourmet brands in the United States and Mexico, respectively.
Unico, Camanchaca's new horse mackerel product.
Camanchaca joins the likes of Mowi, Ventisqueros and others that recently launched consumer brands, or refreshed their current branding.
Last week, Camanchaca's salmon producing arm said it will shift part of its production from the Los Lagos region to the Aysen region of southern Chile after shareholders approved a $30 million (€25.9 million) capital raise.
The new brand is aimed at Chile's domestic market.
About Camanchaca
Camanchaca has more than 55 years' experience feeding the world healthy, nutritious products from the sea. Operating along the length of the Chilean coast, it is committed to respecting the territory where it operates. Through trust-based commercial relationships, Camanchaca currently exports fish and shellfish to more than 50 countries around the world.
Information of the company:
Address:
7200 NW 19th St, Suite 410
City:
Miami
State/ZIP:
Florida (33126)
Country:
United States
Phone:
+1 305 406 9560
Fax:
+1 305 406 2285
E-Mail:
sales@camanchacainc.com
More about:
Approval / Accreditation / Certified / Oversight by...