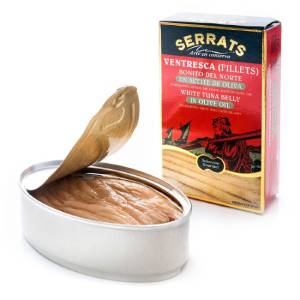 Serrats, canned fish of exceptional quality.
Canned Fish of the Highest Quality

(SPAIN, 10/27/2021)
For its products, Spanish canning company Serrats selects the best raw materials, Bonito del Norte and Anchovy of the highest quality.

The selection of the best raw materials, together with the company's "know-how" of more than five generations and a strict quality control system, make Serrats preserves an exceptional product.

Serrats preserves are produced by a meticulous handmade similar to the process used in 1890. These artisanal techniques prevent the fish from losing quality and make the company's preserves maintain high standards for flavour and texture.
The best Cantabrian products captured and preserved in a traditional way since 1890.

For the elaboration of all the preserves "Conservas Serrats", the company only uses fish that have been caught with traditional fishing techniques. White Tuna (Albacore) are caught individually, allowing the selection of the best specimens possible.

Serrats White Tuna (Albacore) and Anchovy Preserves, are elaborated following a careful artisanal process, learned and improved over the course of five generations.
About Serrats

Without a doubt a large amount of history and tradition exists within the companies in the Basque preserve market and in particular the ones from Biscay. When looking at the companies that have this strong historical tradition it is important to speak of the companies from Bermeo where the largest concentration of these companies have existed traditionally.
A careful artisan process, the latest canning technologies and the selection of the best raw materials are the guarantee to achieve Serrats' goal: to offer canned foods of exceptional quality.
One of the oldest of these companies was founded by José Serrats in 1890, an entrepreneur from Catalonia, who pioneered the use of the Appert preserving system for fish preserves, using this system at the port in Bermeo.

Dedicated originally to the salting and semi preserving of anchovies, over time other types of fish from the Gulf of Biscay began to be preserved by the company. This resulted in a need to expand and a facility was built in Elantxobe (Biscay), Pasajes (Guipuzcoa), Asturias, and Galicia, and eventually their own fishing fleet. Eventually this was given up to focus completely on the industrialization of the company.
Conservas Serrats has been working with anchovies, tuna and other products from the seas since 1890 with the utmost care in the selection and preparation to offer its customers high-quality canned food.
Since the beginning of the 20th century, more than half of the production of the various products made by "Serrats" and "La Pescadora" have been exported. The primary markets that they exported to were France and South America. Currently the largest markets are Europe and North America.

Over all these years, the production process has changed very little. The technique has been perfected to achieve a higher quality product, but the traditional process of production has been maintained.
Serrats preserves are made following a careful artisan process, learned and improved through five generations.
Source: Serrats
editorial@seafood.media
www.seafood.media
Information of the company:
Address:
Polígono Landabaso 3B
City:
Bermeo
State/ZIP:
Vizcaya, Pais Vasco (Euskadi) (48370)
Country:
Spain
Phone:
+34 946 187 280
Fax:
+34 946 881 151
E-Mail:
conservas@serrats.com
More about: