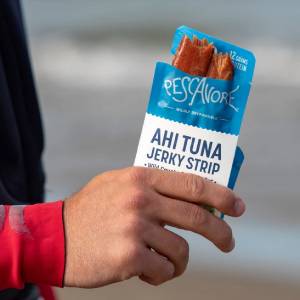 Pescavore tuna jerky is carefully handled for quality, cut into strips, marinated with all natural, gluten-free ingredients and natural wood smoked.
Pescavore, Wildly Responsible Tuna Snacks

(UNITED STATES, 9/4/2021)
Healthy Oceans Seafood Company, the owner of the brand Pescavore, provides nutritious, premium, sustainably harvested, and resource-smart food products to the US market.

Pescavore is a new player in the shelf-stable seafood category. Their specialty is creating innovative and premium-quality seafood jerkies exclusively from responsibly-sourced, wild-caught seafood, with an emphasis on domestic sourcing.
Pescavore tuna jerky strips are the first of their kind and the product of years of vision and hard work to bring the great taste and nutrition of fish to you in a convenient snack.

Pescavore tuna jerky is the first of its kind and brings great taste and nutrition to consumers in a convenient snack. Because the company exclusively sources tuna from US waters, customers can be assured that the seafood purchased through Healthy Oceans was caught legally and sustainably.

At Pescavore, they start with the highest quality, responsibly caught seafood to make their handcrafted jerky. They use premium marinades and whole cuts, then apply the age-old tradition of natural wood smoking. Their small batch process maintains flavor, texture, protein, and nutrients, with less residual salt and sugar than traditional jerky. Packaged in a convenient, single serving size with no refrigeration required until after opening, Pescavore is the perfect healthy and delicious snack for those on-the-go.
Co-founders Matt and Clarice Owens launched Pescavore to focus on product innovation with exclusively sustainable, wild-caught seafood, making delicious snacks with clean, lean, marine protein.

The company launched with a focus on product innovation for sustainable wild-caught seafood. Healthy Oceans utilizes emergent technologies in food processing, pasteurization, and automation to produce convenient seafood products consumers can trust while helping hard-working American fishermen, communities, and consumers thrive.
Fork ready and tender p
ieces of tasty tuna make a great snack or culinary addition to your favorite seafood recipe.

Focusing exclusively on Green and Yellow rated seafood by the Monterey Bay Aquarium's Seafood Watch program, Pescavore is beginning their product line with yellowfin tuna sourced from the U.S. West Coast FAD-free purse seine fishery. Future plans include expanding the product line to include sockeye salmon and other forms of high-value seafood. All product processing takes place domestically in the U.S., leading to a significant positive impact on greenhouse gas emissions and product traceability.
About Pescavore

The idea for a locally caught and produced seafood product was born from a work, surf, dive and fishing trip that Co-founders Matt and Clarice Owens did through Micronesia. At the RRE hotel perched on the edge of Majuro atoll in the Marshall Islands, the couple was first introduced to a delightful, artisan produced food tradition. Local fishing families dried thin sticks of Marlin and delicately seasoned them with ginger and spices to produce a fish snack with a perfect touch of wild and gamey flavor. After practically living on these fish treats, Matt and Clarice returned home keen to recreate this simple delicacy for themselves and maybe others too.
This innovative keto and paleo friendly premium tuna is sure to wow seafood eaters one bite at a time.

Over the next few years, Matt and Clarice worked to create a minimally processed, sustainable and delicious snackable seafood based from the slow food traditions of brining, drying and smoking fish. The couple visited indigenous fish smoke houses in the Makah and Quileute territories, hung out with Alaskan and Pacific Northwest fihsers and processors and ultimately innovated unique methods to bring this first of its kind product to market.

Pescavore and
Healthy Oceans Seafood Company are more than just a consumer packaged goods company. The company is a vertically integrated producer that works tirelessly to ensure that our coastal communities benefit from active, working waterfronts and local, sustainable seafood for years to come.
Source: Pescavore
editorial@seafood.media
www.seafood.media
Information of the company:
Address:
1035 17th Avenue
City:
Santa Cruz
State/ZIP:
California (CA 95062)
Country:
United States
Phone:
+1 (312) 624-8200
E-Mail:
hello@pescavoreseafood.com
Skype:
https://www.instagram.com/pescavore_seafood/
More about: