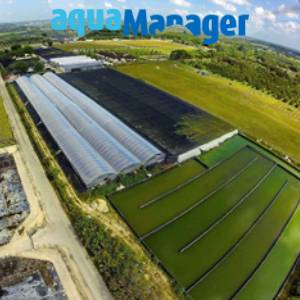 Spring Genetics produces high-performing tilapia broodstock and sex-reversed fingerlings at its facilities in Florida, USA.
AquaManager Partners With Leading Tilapia Genetics Company Spring Genetics

(GREECE, 8/18/2021)
Athens-based aquaManager has partnered with one of the world's leaders in aquaculture genetics, Spring Genetics, part of the Benchmark Genetics group. Since its inception over 20 years, aquaManager has strived to develop and deliver the most innovative technology to help companies improve profitability by lowering production costs and enhancing operational efficiency. The integrated software solution also allows for greater production planning and management alongside providing thorough cost analysis and biological and financial forecasts.
Producing high-performing tilapia broodstock and sex-reversed fingerlings, Spring Genetics provides robust and disease-free genetic material to farms, integrated companies, and affiliated tilapia hatcheries across the globe. This new partnership will see Benchmark's Spring Genetics able to utilize the aquaManager technology suite.
Spring Genetics distributes robust and disease-free genetic material to farms, integrated companies, and affiliated multiplication hatcheries around the globe.
Spring Genetics and the aquaManager team has recently begun implementing aquaManager's Hatchery module, which has been specifically designed for companies producing fish fingerlings or eggs, for commercial use or for their own grow out operations.
This process requires complete traceability, and adopting the aquaManager software will allow Spring Genetics to seamlessly provide this to their customers. Furthermore, the ground-breaking technology will allow Spring Genetics to optimize their production performance, control costs, and significantly enhance their efficiency. Having always focused on sustainability, adopting aquaManager will allow them to further insure it, while maximizing the overall welfare of the fish.
Spring Genetics tilapia strain is the result of a long-term breeding program and intensive innovation, focused on solving challenges and optimize their opportunities.
The Hatchery module is just part of aquaManager's wider strategy of developing a more intelligent production process. As one of the leading providers of IT technology to the aquaculture industry, aquaManager is already working in over 60 countries across Europe, North America, South America, the Middle East, Asia, Africa, and Australia, and its innovative systems are utilized by government agencies, research organizations, and businesses alike.
As technology continues to advance and transform the world, aquaManager is dedicated to creating an intelligent biomass production system through of state-of-the-art technologies. From the use of smart devices and equipment, data analysis, Internet of Things, and Artificial Intelligence, the company is developing truly innovative solutions that are transforming the current industry.
Konstantinos Bovolis.
Digital transformation will play an important role in the future of the aquaculture industry. Organizations will need to adopt software solutions in order to help them adapt their processes to ensure they are as sustainable and efficient as possible. aquaManager plays an integral role in this transformation by assisting businesses in changing their approach and company culture, helping them maximize the services they provide, and further enhancing the overall product being offered to consumers.
Konstantinos Bovolis, the Product Manager of the software suite added, "We are really pleased to announce this new partnership with Benchmark Genetics and their Spring Genetics sector. This is a fantastic opportunity for us to work with a leader in the genetics field and further strengthen our position in the aquaculture industry.
However, while our software will help Spring Genetics enhance their efficiency, reduce costs and improve their production, it will also allow us to further increase our presence in the hatchery sector of tilapia and other warm-water species, while our software already plays an in important role in the commercial grow out production. Our solutions aim at accelerating the digital transformation of the industry, and we are looking forward to working closely with the entire team at Benchmark."
About aquaManager
For more than 20 years, aquaManager has been offering integrated software solutions and technological innovation to the aquaculture industry, one of the fastest growing food-producing industries around the globe.

Source: AquaManager

editorial@seafood.media
www.seafood.media
Information of the company:
Address:
43 Mitropoleos Street, Marousi,
City:
Athens
State/ZIP:
Attiki (15124)
Country:
Greece
Phone:
+30 210 80 63287
Fax:
+30 210 80 63356
E-Mail:
info@i2s.gr
Skype:
https://www.instagram.com/aquamanager_/
More about: