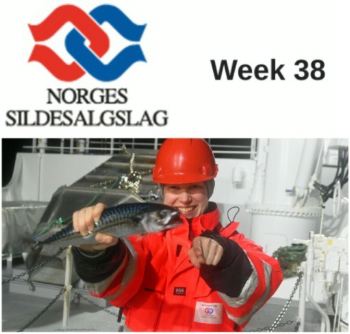 Photo : Roar Bjånesøy/Norges Sildesalgslag/ FIS
The Norwegian Pelagic Fishing Course in Week 38

NORWAY
Tuesday, September 27, 2022, 06:00 (GMT + 9)
The best mackerel week in history
Mackerel:

What a mackerel week we've had. A total of 63,600 tonnes have been registered, and this is a historically high quantity of mackerel in one week. The previous record was from last year when we had 60,900 at the end of August. There have been good catch rates every day with Friday being the best day with a total of 15,600 t.
It is the purse seiner group that has contributed the most with a total of 49,700 t, from the coast 8,100 t, SUK 4,300 t and from trawls we have 1,500 t.
There has been a great effort in mackerel fishing from both small and large, with a total of 174 boats registered. In addition, there are boats fishing for mackerel that do not report catches.
It is in the Norwegian Sea that the main quantity is fished, with a whopping 59,400 t. Here we see that the mackerel has followed the same pattern as we saw back in 2019 and previous years. At the start of the week, the boats were in the area around N 64⁰ and E 01⁰, 160 n.miles northwest of Stadt. The boats have been following the mackerel southeast and the last catches on Sunday were taken around 80 n.miles west of Stadt. What has been different now than in previous years is that fishing with nets has been best at night. This usually happens later in the autumn in the North Sea.

Photo: Norges Sildesalgslag
For the smallest coastal fleet, the good fishing on the coast has continued both for seiners and on dorg. In addition, some of the larger coastal boats have fished for mackerel on the Viking Bank. Here, the fishing stopped at the weekend and the boats went into port due to gales.
With such large quantities of mackerel, there is pressure on the receiving capacity on shore, and some have had to wait a while for unloading. Plants from Egersund in the south to Senja in the north have produced mackerel, and most have been on both late and early.
The catches at the weekend had little bait, and the buyers report that the mackerel is now of super quality. Where one can serve the best mackerel markets in Asia.
In the coming week, we expect a lower quantity as more boats are in port with their quotas. This applies to all fleet groups.
What will be most exciting going forward is which direction the mackerel will take. Two years ago, a "fairy" of large and beautiful mackerel arrived on the Mørekysten coast in late September. We are crossing our fingers that this will be repeated this year.
Bluefin tuna: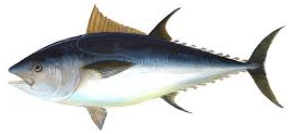 We received the first bluefin tuna entry from "Spjæringen" on Saturday with 27 tonnes. They had a cast of over 100 bluefin tuna 10 n.miles northwest of Kråkenes lighthouse.
They and other fishermen report sightings of large bluefin tuna both along the coast and further out to sea. "Orfjord", which has delivered to Møre, has taken its allocated quota and has started on the additional quota.
North Sea herring:

For North Sea herring, we only saw a catch from the Danish "Themis" of 500 t fished east of the English coast, and 70 t from a Norwegian boat from the Viking bank.
In addition, smaller quantities have been taken in the fishery from Kanten.
Fishing for fishmeal/oil:

There have also been few boats fishing on Kanten this week.
From three boats, 430 t of norway pout, 350 t of blue whiting, 140 t of horse mackerel and a few tonnes of herring have been fished.
Author/Source: Kenneth Garvik/ Norges Sildesalgslag (translate from original in Norwegian)
editorial@seafood.media
www.seafood.media