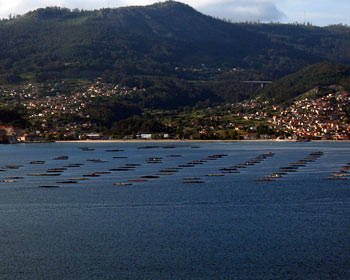 Mussel rafts in Ria de Vigo, Galicia. (Photo: Lia Russo)
Red tide causes mass closure of mussel rafts

SPAIN
Thursday, September 02, 2010, 22:30 (GMT + 9)
In recent days, this has led to the closure of nine mussel rafts in the river due to the presence of the red tide. There are also a further three sites, which have remained closed since last July, reports La Voz de Galicia.
At present, only a small nursery floating in Redondela, in the area of Rande, resists the presence of the biotoxin and maintains its activity.
The diarrheal toxin causes gastrointestinal upset such as diarrhea and vomiting.
According to all available information, every polygon in the Ria de Pontevedra is closed, including two belonging to the council of Cangas in the Aldán Cove.
The stoppage could last for multiple weeks or even months.
Although workers can not collect any shellfish, they will be temporarily engaged in repairing their boats and machinery.
Most episodes of water toxicity usually occur in spring (March and June), and can extended into the European summer.
On this occasion, the red tide also affected oyster farming sites, resulting in two of them being forced to close, according to Faro de Vigo.
"Mussels are at their best during this period, so the closure of the rafts is highly detrimental to all," said Javier Blanco, president of the Association of Mussel Farmers in Vilaxoán Virxe do Rosario (Vilagarcía).
The president stressed how this situation makes it "impossible to supply all of their customers."
Moreover, the Diputación de Pontevedra has announced the approval of a grant for the regeneration of shellfish banks in the province, at a total of EUR 180,000.
Related article:
By Analia Murias