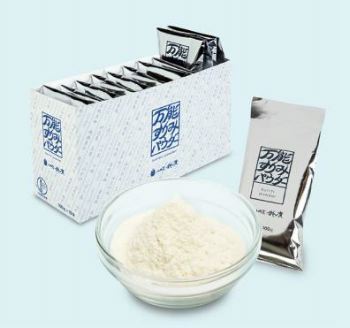 'Universal surimi powder' When water is added, it transforms into raw surimi!

JAPAN
Monday, March 08, 2021, 05:10 (GMT + 9)
Suzuhiro Kamaboko, the top manufacturer of Odawara Kamaboko, released "Universal Surimi Powder" on the 1st. Just add water and mix for 1 minute to complete about 5 times the amount of raw surimi.
By steaming or fried it, you can easily make a creative menu rich in fish meat protein and traditional Kamaboko and Satsuma-age. Generally, frozen surimi is thawed and used, but the ease of use is greatly improved because it is light and does not need to be thawed.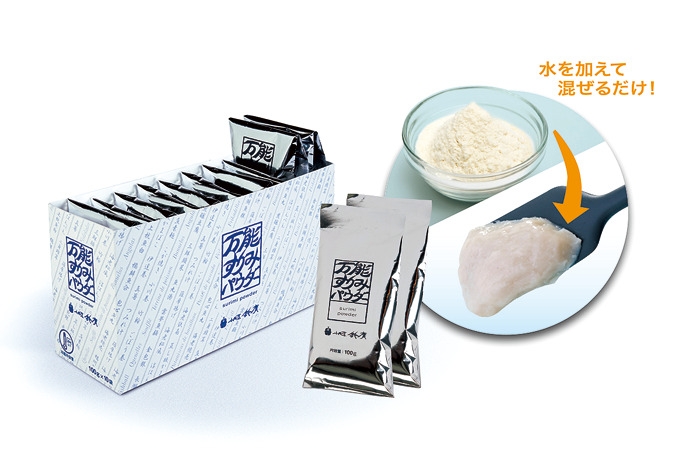 The only ingredients for surimi powder are fish meat, starch syrup, salt, and sugar. Raw white fish is used for fish meat, and it is freeze-dried through the so-called process of collecting meat, exposing it to water, dehydrating it, and crushing it. It is not just a powder of fish meat, but a special powder processed so that fish protein absorbs water to increase its viscosity and strength.

Commercial surimi products are already useful for eating out, hotels, catered lunches, etc. In addition to white fish, various frozen processed surimi of shrimp and squid are used. The shape and seasoning are free, and the range of applications is wide, from traditional Japanese, Western, French, and Italian dishes to creative menus. In addition, in a world where carbohydrates and lipids are disliked these days, the number of high-protein, low-fat fish meat tends to increase.
On the other hand, most surimi products are frozen and take several hours to thaw. In addition, if the surimi is frozen again, the quality will deteriorate, so it is desirable to use it up. In that respect, if it is a powder raw material, water is added to 50 g of surimi powder to make 250 g of surimi, so it is easy to calculate and store (store in a cool and dark place at 20 degrees or less). Made only from natural materials, the hardness of the finish can be adjusted by adjusting the water content. You can also add soup stock or soy milk instead of water to make mousse or cold broth, so the menu will expand infinitely depending on your ideas. It is an innovative product that lowers the barriers to introduction, whether it is a substitute for traditional frozen surimi or for people who want to eat out or use it at home.
Source: Shokuhin Shinbunsha | Translated from original in Japanese
editorial@seafood.media
www.seafood.media