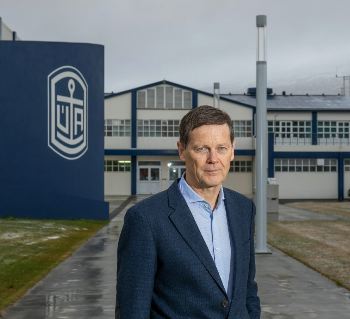 It will be Mr Baldvinsson's task to lead the Group's crisis handling in the wake of the Covid-19 impact
Thorsteinn Már Baldvinsson returns as co-CEO of Samherji

ICELAND
Monday, March 30, 2020, 05:00 (GMT + 9)
Samherji's board of directors decided today to appoint Thorsteinn Már Baldvinsson as CEO alongside Björgólfur Jóhannsson, who will continue in his position as CEO until the board decides otherwise.
In November 2019 Mr Baldvinsson decided to temporarily step aside as CEO pending the investigation into the alleged wrongdoings by Samherji subsidiaries in Namibia. The investigation, which is well underway, is commissioned by the Samherji board of directors and supported by international law firm Wikborg Rein in Norway. In his capacity as interim CEO, Mr Jóhannsson was instructed by the board to assist Wikborg Rein in any way possible.
Globally, countries face an unprecedented situation because of the Covid-19 outbreak. Here in Iceland, companies close down or reduce activities; employees are out of work, and the government is implementing the most significant economic rescue package ever seen in Iceland. Food production, fisheries and seafood processing will be crucial under the current circumstances.
"It will be Thorsteinn Már Baldvinsson's task to lead Samherji's crisis handling in the wake of the Covid-19 impact. The Samherji board of directors consider strong leadership with detailed knowledge of the organization's personnel, fishing, processing, sales, transport and all other operational aspects to be critical for the crisis handling which has been necessitated by the outbreak. Mr Baldvinsson has previously guided Samherji through the difficulties of the Icelandic banking meltdown and the global financial crisis with outstanding results. The board of directors can see nobody better equipped to handle this situation," says Eiríkur S. Jóhannsson, chairmain of the board of directors of Samherji.
The investigation will continue unaffected and without interruption from changes in the Group's management. Wikborg Rein's reporting lines will remain to the board of directors, and Mr Jóhannsson will remain dedicated to providing any assistance needed for Wikborg Rein. Although some delays are expected from the investigation due to the extraordinary Covid-19 situation, the investigative work is still scheduled to be finalized and reported to the Samherji board of directors and relevant authorities during the course of this spring.
As announced on January 17th, Samherji has taken steps to implement a corporate governance and compliance system. The new system will be part of the Samherji Group's future management structure and will cover Samherji and all its subsidiaries. As CEO alongside Mr Baldvinsson, Mr Björgólfur Jóhannsson will remain in charge of the implementation of the system which is well underway and is expected to be completed later this year.
Samherji is currently working hard to maintain all vessels in operation. Production in fish processing plants in Dalvík and Akureyri will continue to the extent permitted by the infection prevention guidelines. Every effort has been made to keep all sales channels open, both domestically and abroad. All of Samherji's employees have participated in the fundamental changes and dealt with inconveniences and pressures that this entails with the firm goal of minimizing damage to society.