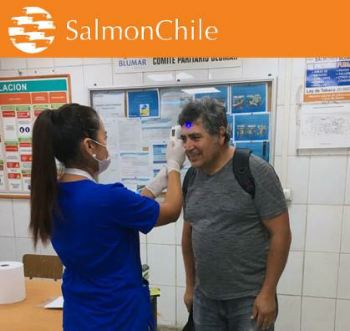 A nurse checks the temperature of an operator at a Blumar plant (Photo: SalmonChile)
Salmon industry reduces operations due to coronavirus pandemic

CHILE
Monday, March 30, 2020, 02:00 (GMT + 9)
The Chilean salmon industry, the second largest in the world, has suffered the impact of the coronavirus and reduced the capacity of its operations as a measure to contain the advance of the epidemic, said the president of the aquaculture union.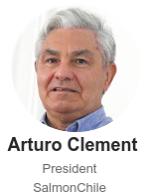 Local salmon production is concentrated in areas of the south of the country, especially in the waters around the Chiloé Archipelago, where the authorities decreed this week a sanitary cord to prevent the spread of the virus in the distant islands.

Salmon production centers are operating at low capacity "with fewer workers per shift and processing a much smaller quantity of salmon," SalmonChile president Arturo Clément told Diario Financiero.

"We are making enormous efforts to adopt extraordinary labor and health measures to prevent contagion," he added.
Source: Reuters