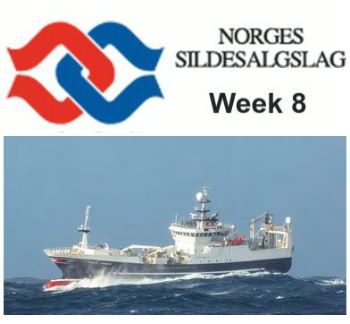 The course of the pelagic fisheries as per week 8 (herring, blue whiting, horse mackerel and capelin)

NORWAY
Wednesday, February 26, 2020, 19:10 (GMT + 9)
Bad weather hampered fisheries this week which ended with almost three days without any reported catches 
Norwegian Spring-Spawning herring

From Thursday night until Sunday afternoon we have not seen any catches of herring, the fleet headed ashore due to bad weather and that has prevailed until Sunday afternoon. 
Now the first vessels are back on the fishing grounds and we have had the season's first catch from Breisundet.
Total we have had 23 900 tonnes reported this week , 5 370 tonnes from purse seiners, 1 320 from the trawlers, 15 290 tonnes from the coastal fleet and 1 900 tonnes from foreign vessels.
The fishery has taken place along the coast of Møre , more specific Buagrunnen, 20 820 tonnes were caught in this area. The rest has been caught west of Skomvær. 
The average weight has been 362 grams, the herring from the northern areas pulling down the average. There is keen interest from the buyers for the herring, especially from those producing herring-roe. But some herring has also been bought for fileting and for freezing whole.
In the coming week we are expecting more fish from the coast of Møre, and we hope the roe quality will hold for a while.
Blue Whiting

Weather conditions west of Ireland has also been far and few in between for the fishing fleet to fill up the vessels and headed for the landing sites. Sunday afternoon the weather improved and we are seeing vessels on the fishing ground. 
This week total is showing 7 catches of total 10 670 tonnes. All the fish is taken in the International zone, around 52 degree North and west of 15-16 degree. Many vessels have been fishing in the area, including vessels from Russia, Faroe Islands, Iceland and several other nations.
Other fisheries


Only a small quantity of horse mackerel has been registered in our catch journal this week. 
Seven vessels have been scouting for capelin around Iceland, but so far we have not heard any news of a quota for this year.
Author : Odd Fredrik Andersen/Norges Sildesalgslag (Norwegian Fishermen's Sales Organization for Pelagic Fish)