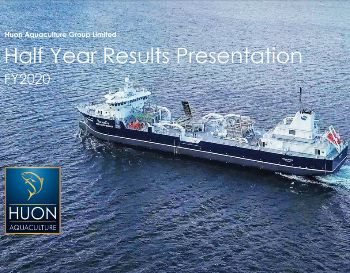 Huon increases salmon harvest 48% in 1H2020 and is on track to meet full-year forecast

AUSTRALIA
Monday, February 24, 2020, 00:00 (GMT + 9)
Huon Aquaculture Group Limited has delivered a net profit after tax (NPAT) of AUD 22.0 million for the six months ended 31 December 2019 (AUD 26.4 million pcp) and highlights that performance in this half reflects the lower selling price achieved in the international market.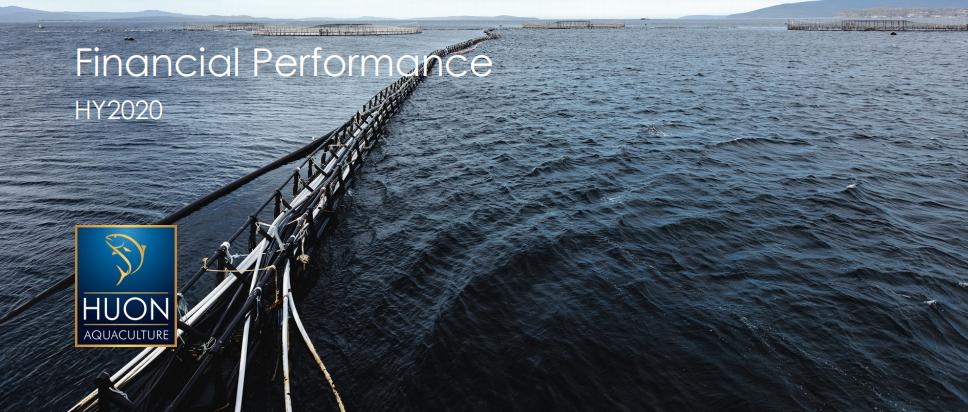 Following two consecutive years of challenging operating conditions, the investment in rebuilding the biomass has resulted in the harvest increasing 48% to 13,300 tonnes, consistent with its forecast of at least 25,000 tonnes for the year. There is a significant increase of biomass in the water which will underpin increased production in FY2021 and FY2022.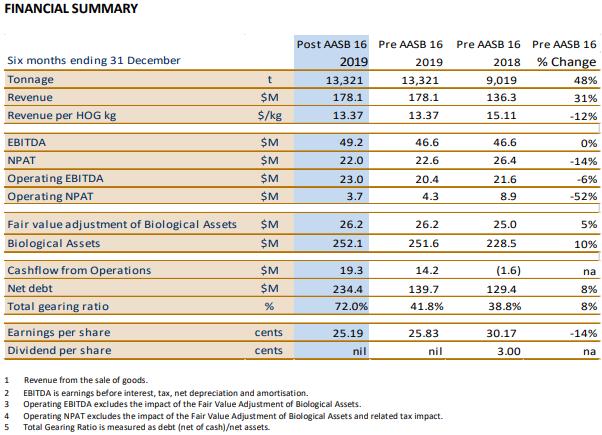 Summary of business performance for 1H2020
Revenue of AUD 178.1 million (+ 31% on pcp), supported by a 48% increase in harvest tonnage
Statutory NPAT of AUD 22.0 million (AUD26.4 million pcp)
Operating NPAT declined to AUD 3.7m due to a change in channel mix which resulted in a 12% fall in average price. In addition interest expense and depreciation charges were higher due to the largely debt funded increase in capital expenditure over the past two years
The average harvest weight increased to 5.07kg from 4.10kg in 2H2019 as fish growth responded to the improved operating environment
Cashflow from operations (AUD 19.3m) recovered from the previous corresponding period (-AUD 1.6m) due to the increased weighting of sales to exports – higher collection rates resulted in increased cash in 1H2020
Increased working capital requirements during the half resulted in an 8% increase in net debt to AUD 139.7 million (pre AASB 16) and a similar rise in gearing on pcp to 42% – Capital expenditure for the half is well down (AUD 12.5m) following the completion of the expansion programme in FY2019
Due to the ongoing focus on building biomass and continued high debt levels, Directors have suspended the dividend for FY2020.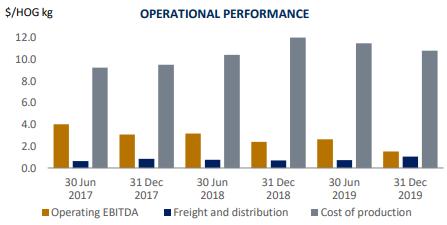 By the end of the first half Huon was on target to achieve its objective of making up the ground lost due to the setbacks in production from biological and weather events in FY2018 and FY2019. The loss in momentum resulted in Huon falling behind its annual growth target for production of 10% pa so a major focus has been to return the biomass levels back to where they would have been, had these setbacks not occurred. The performance of the 2019 year class, particularly in the second quarter, has been exceptionally strong, predominantly as a result the structural improvements that have been made over the past two years.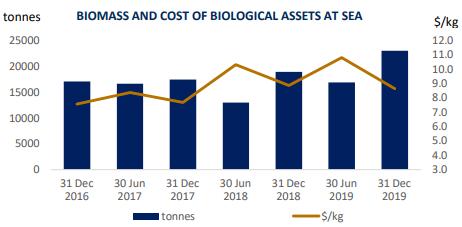 The successful completion of the investment program has meant that Huon is now in a position to increase salmon supply into a growing domestic and international market. Huon can, in effect, focus on its core strategy of growing the market, growing production and enhancing operational efficiency, and doing so both safely and sustainably.

Huon began FY2020 with low harvest weights and growth in the first quarter which was slow to recover from the effects of summer 2018/19 and jellyfish and gill necrosis issues. This resulted in low sales volumes in the first three months as the business had predominantly only small fish to sell which reduced its competiveness in the wholesale market. It also meant export sales were difficult, particularly in the China market where there is a preference for larger fish.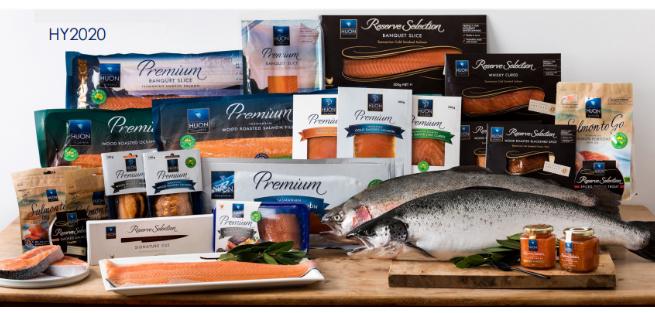 Growth rates were slow to pick up, however there was a noticeable improvement in spring and early summer. With fish size now more competitive in the wholesale market, and more acceptable for export markets, harvest rates were increased through the second quarter.
The rebuild of the biomass, even with a late start to growth, has created a significant amount of fish to sell with the planned harvest for FY2020 totalling at least 25,000 tonnes. Even with wholesale sales responding to a more acceptable fish size, the increased growth resulted in higher tonnages into the export market.

Huon's forecast of production volumes for FY2020 of at least 25,000 tonnes, provided in its trading update at the AGM of 23 October 2019, is unchanged. There are currently fish in production that will support at least 30,000 tonne production in FY2021 which is where the business would have been if it had maintained its planned growth profile of 10% pa, prior to the setback experienced in FY2019.

(1 AUD = 0.66309 USD)
Read the full report here