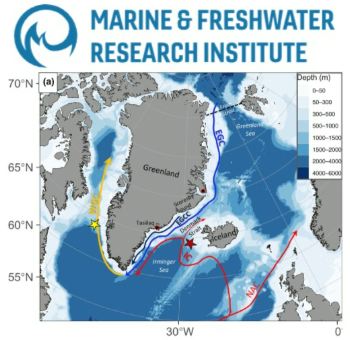 Image: Hafogvatn / Marine & Freshwater Research Institute (Iceland)
Regime shift in marine ecosystem off Southeast Greenland

ICELAND
Tuesday, December 06, 2022, 07:00 (GMT + 9)
Findings of unexpected large numbers of fin and humpback whales during recent years in the previously ice infested waters of East Greenland indicate a tipping point in the marine ecosystem from one regime to another that may be irreversible.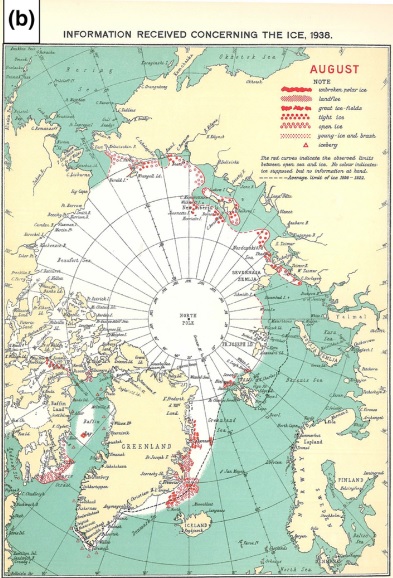 The sub-arctic ecosystem off Southeast Greenland dominated by large amounts of drifting pack ice has changed during this century to a more temperate system with less sea ice and warmer ocean temperatures. These changes in summer ocean conditions are making the region more attractive for large numbers of fin and humpback whales, as well as mackerel, bluefin tuna and other pelagic fish species, while e.g. narwhales and walruses have largely retreated from the region.
Extent of sea ice in the North Atlantic in August 1938 during a warm period (DMI, 1939). Note the continuous belt of ice along East Greenland that reaches up along the southern coast of West Greenland (the so-called "Storis"). Courtesy from Wiley Online Library >>>>
Dramatic ecological changes such as these are considered regime shifts in the ecological literature. Shifts from one regime to another occur at a tipping point and may be irreversible. The regime shift has cascading effects throughout the ecosystem.
These are the conclusions in a new scientific study published in the internationally peer-reviewed scientific journal Global Change Biology.
The study was led by Mads Peter Heide Jørgensen at the Greenland Institute of Natural Resources, Denmark, in cooperation with researchers from Denmark, Greenland, USA and Iceland
. Two coauthors from the Marine and Freshwater Research Institute in Iceland contributed to the study, Gísli Víkingsson, expert on cetaceans, and physical oceanographer Andreas Macrander.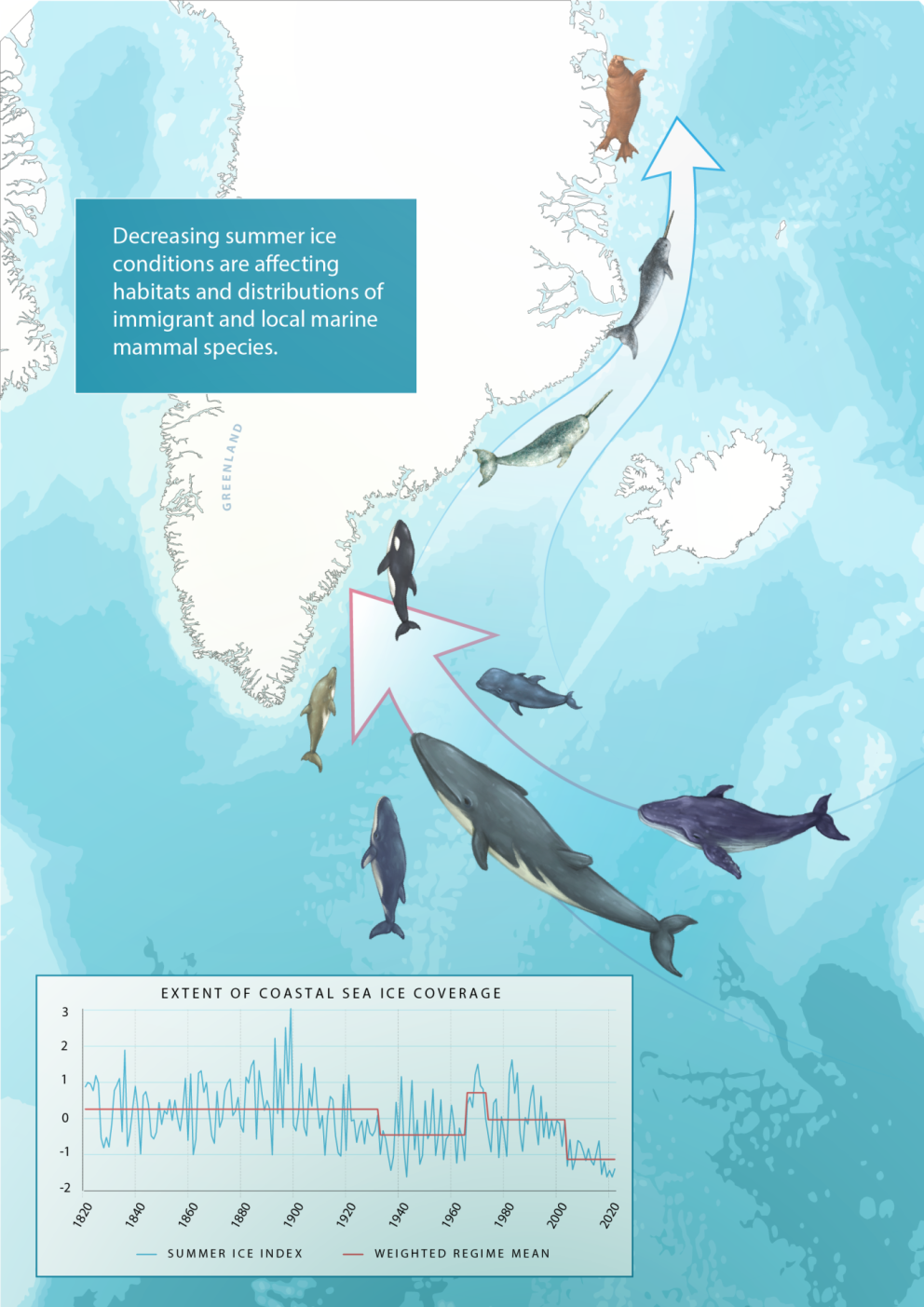 Index of sea ice extent at Southeast Greenland 1820 – 2021, and illustration of changes in cetacean distribution during recent years (Image: Hafogvatn)
The study combines a vast set of long-term observations, including stock assessment and distribution of whale and fish species, sea ice, and hydrographic data. Data of the Faxaflói 9 station collected over the past 50 years by MFRI during the regular ástand sjávar cruises were used to assess recent changes in temperature and salinity of the Irminger Sea. Mackerel and capelin survey data from MFRI permitted to map changing distribution of pelagic fish corresponding with increasing temperatures of the ocean.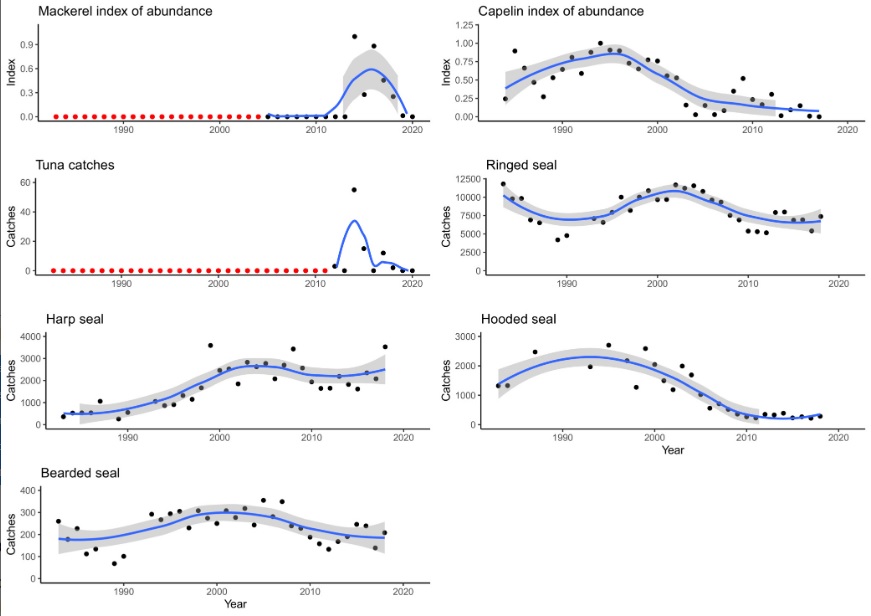 Upper panel: Loess plots of the time series of the index of abundance of two pelagic fish species, mackerel and capelin in the Irminger Sea. Data from Post et al. (2021). Lower panels: Catches of Atlantic bluefin tuna in the Irminger Sea (data from Jansen, Nielsen, et al. (2021)) and catches of four seal species at Tasiilaq (data from Anon, 1983–1992 and the Greenland Directorate for Fisheries, Hunting and Agriculture). Red dots indicate that there is no information on the presence or catches. Courtesy from Wiley Online Library
The sea ice retreat off South-East Greenland is unprecedented in the past 200 years of summer ice observations in the region. "The new regime will likely become permanent for the foreseeable future, unless temperatures cool and the ice export from the north increases again. According to recent IPCC reports, continued 21st century climate change make this scenario unlikely," says Professor Mads Peter Heide-Jørgensen, Greenland Institute of Natural Resources.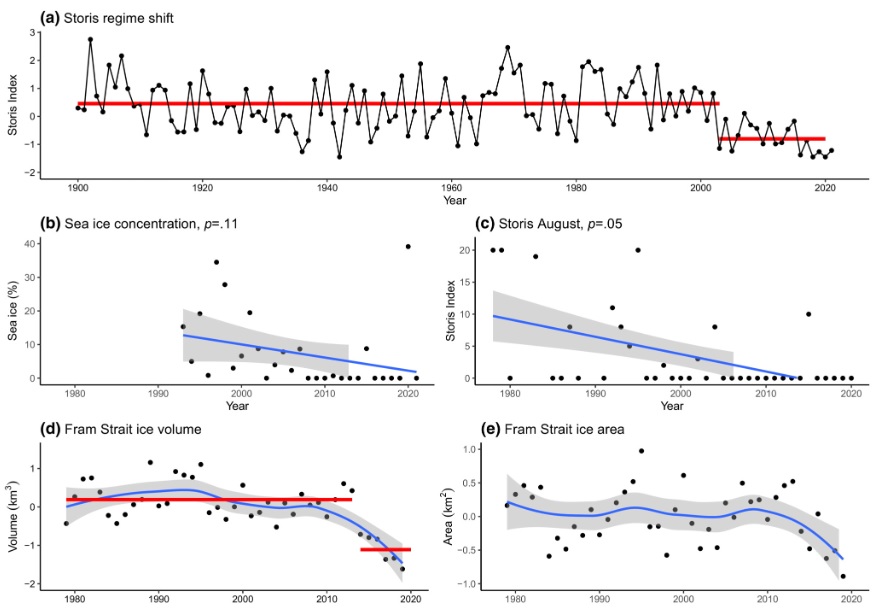 Changes in sea ice conditions in East Greenland. Upper panel: Temporal variability in the summer averaged Storis Index (June–July–August) since 1900 together with regime-specific means identified by a sequential regime shift detection algorithm (Rodionov, 2016; Rodionov & Overland, 2005). The indices for the series starting in 1900 are standardized indices derived using averages for the period 1900–2021. Black line with dots: standardized Storis Index for June–August; red line: regime-specific means. Middle panel: Linear trends in sea ice concentration in SEG (see Figure S1 for delineation of SEG) and the occurrence of Storis after 1979. If the outlier in sea ice concentration from 2020 is excluded the p-value drops to .01. Lower panel: Loess plots of the trends in the annual export of sea ice (area and volume) from the Fram Strait during 1979–2019. The regime shift is shown in red for the ice volume plot. Courtesy from Wiley Online Library
The study is part of the EU funded ECOTIP and a Nordic Council project investigating links between changing oceanographic conditions and fisheries in East Greenland (AG-Fisk LEGCO). ECOTIP focuses on tipping elements in the marine environment of the North Atlantic.