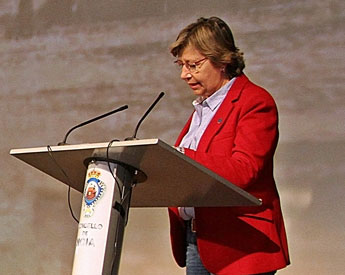 Rosa Quintana, head of Undersecretariat of Marine Affairs of Galicia. (Photo: Xunta de Galicia)
Galician ecologic seafood sales grew 38pct in 2016

SPAIN
Friday, November 10, 2017, 23:40 (GMT + 9)
The sales of Galician organic sea products grew by 38 per cent during 2016 and reached a total value of more than EUR 9 million.

These data were provided by the Undersecretary of Marine Affairs of ​​Galicia, Rosa Quintana, who also stressed the importance of this sector in this autonomous community, which has 74 operators of this type of production, among which mussel producers, algae pickers, canneries and shellfish cookers, among others.

Quintana offered this information at the opening of the 32nd edition of the fair of organic products and responsible consumption BioCultura, which takes place in Madrid until Sunday and in which 45 ecological companies of Galicia are represented.

The event was also attended by the General Director of Fisheries, Aquaculture and Technological Innovation, Mercedes Rodríguez, and the General Director of Livestock, Agriculture and Agrifood Industries, Belén do Campo.

Quintana also highlighted the importance of sales of certified organic products in all the sectors of Galicia. In this regard, he recalled that last year they grew more than 25 per cent, changing from EUR 33 million in 2015 to almost EUR 42 million in 2016.

In her speech, the Galician minister stressed the importance of focusing efforts on this type of events, which is the perfect showcase to exchange ideas, contacts, projects and carry out buying and selling operations. Therefore, she explained that "Galicia can not miss this fair."

BioCultura fair is an international event and is one of the most important of its characteristics in Europe. It is organized by Asociación Vida Sana and is held annually in Barcelona, ​​Seville and Madrid and every two years in Valencia and Bilbao.