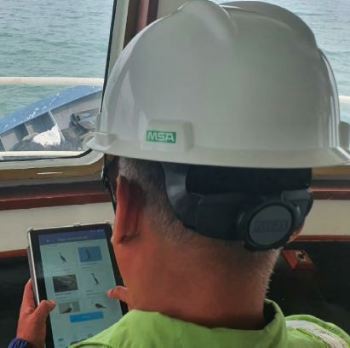 Recent technological innovation with a mobile app for use in boats in order to report fishing operations in real time
TASA launches mobile app to record marine ecosystem data on fishing vessels

PERU
Tuesday, February 25, 2020, 09:00 (GMT + 9)
Lima - The
Peruvian fishing company TASA
continues to focus on the digitalization of the industrial fishing sector through the implementation of a mobile application so that its trained crew members through the Cuidamar Model -oriented to the conservation and sustainability of the marine ecosystem- can report in time Really and more efficiently, the results of fishing operations such as the sizes of each species found, creek processes, sightings, releases of protected species, among other indicators aligned to the principles of sustainable certifications such as the Marine Stewardship Council (MSC ) which will allow for real-time decision making and the execution of improvements during fishing seasons.
This innovation responds to the continuous improvements that TASA is constantly developing to contribute to the conservation of the seas. Among the main actions developed by TASA is the Cuidamar program that was born in 2008 that trains the crew in the correct identification and release of marine predators, however, all the work done by them was manually recorded in a logbook.
About the features of the app
The Cuidamar App has been created with the purpose of simplifying the on-board registration for crew members as well as providing real-time information on fishing activity, the composition of their catch, continuous monitoring of the sea and automation of processing of data, in turn that this data can be visualized on a platform for public use.

"We are proud of the importance of the Cuidamar Program towards the digital era, as we seek to promote sustainable fishing through the precision of data that help us minimize the impact on fishing and the generation of improvement plans," said Rosa Vinatea, coordinator of oceanography and sustainability of TASA.
In TASA the use of technology on board has been working since 2015, where the fisheries management has worked continuously with its fishermen. The Cuidamar Model seeks that through this app other institutions and different fisheries use it with the same objective: to contribute to an integrated management of sustainable fisheries management in the national fisheries sector.