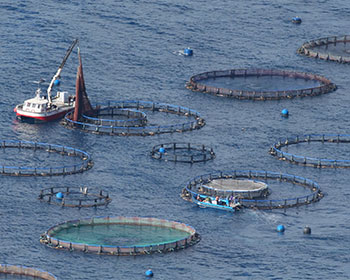 Fish farm in Tijarafe, Canary Islands. (Photo: Robert Burton CC BY-NC-SA 3.0)
Spanish institutions involved in EUR 7 million European aquaculture project

SPAIN
Friday, March 11, 2016, 22:40 (GMT + 9)
An international team of experts in aquaculture, of which the University of Murcia and IMDEA Agua Institute (Madrid) form part, have initiated a four-year project with a budget of almost EUR 7 million to establish new strategies and models capable of promoting sustainable growth of the aquaculture industry in Europe.
The project, "Tools for the Assessment and Planning of Aquaculture Sustainability" (TAPAS), is led by the University of Stirling (UK) and funded by the European Commission through the European Research and Innovation Programme Horizon 2020.
The project will create management tools and good practices for the aquaculture sector in Europe, and investigate the limits of fish farming activity in different locations, environmental impacts and any future risk that this farmed product can generate as well as interactions of aquaculture with society.
Professor Trevor Telfer of Stirling Aquaculture Institute is TAPAS project coordinator, which begins this month and will seek to establish a comprehensive procedure to maintain a transparent and efficient exploitation of aquaculture, increasing environmental and food sustainability, and maintaining food production at the necessary levels with the corresponding number of jobs.
The European consortium will evaluate the structures that are currently operating in the seas, lakes and rivers of the European Union, examining different environments and developing new approaches to produce computer systems for aquaculture sustainable expansion.
The work is carried out matching the European Marine Strategy Framework Directive, which urges Member States to protect marine environment more effectively through continuous environmental monitoring, using early warning systems and efficient management technology.
The research team will collaborate with the industry, managers, responsible executives and other potential users to ensure that the tools developed are accessible, using courses and content exhibition activities to improve the image of European aquaculture and promote an integrated sustainability strategy.
"The extensive experience gained through our 15 European partners allows us to obtain sophisticated technology based on mathematical models for decision-making, combining different disciplines and branches of knowledge in a simple and efficient entity for the use of European managers and producers," stressed Dr. Andreu Rico of IMDEA Agua Institute.
The collaborative work will play a big role in the strategy of the European Commission to acquire the smart growth of aquaculture production in European regional seas.

editorial@seafood.media
www.seafood.media