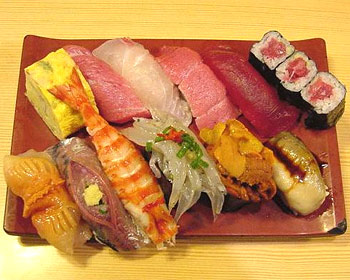 Sushi. (Photo: Haruo Chiba)
Is sushi an endangered species in Japan?

JAPAN
Tuesday, September 11, 2012, 14:10 (GMT + 9)
Sushi's popularity continues to grow worldwide, but its origins in Japan are endangered. Whereas a European investor, Permira, has recently bought Akindo Suishiro, Japan's largest sushi chain, and plans to expand overseas, in Japan individual sushi shops continue to close on account of declining sales, aging shop owners, and children not entering the family business.
Tsukiji Fish Market, Tokyo. (

Photo: P

ublic Domain)
Tokyo's famous Tsukiji Fish Market ("Tsukiji") and Japan's fishing industry itself are declining and struggling to survive. Why? They are not adapting, Japan's fishery resources are severely depleted, its fisheries resource management is ineffective, fishing is unprofitable, fishers are old, there are few incentives for the young to fish.
Tsukiji and Japan's many other wholesale fish markets, which are unchanging, unprofitable and shrinking, used to sell most of Japan's catch.
When I fished squid in Japan in the late 1970s and crab on Japan's Bering Sea fleet in 1980 things were completely different. Resources, fishing, fishers, and markets were dynamic and their business was profitable.
Within three years, Tokyo's Tsukiji market will relocate 2.2 kilometers from its current location. However, for New Tsukiji to succeed, Tsukiji and Japan's fisheries must be revitalized thoroughly and quickly. If this is not done effectively, it may be too late, since the resource would be overfished beyond recovery, too many experienced people and companies would leave the industry and too many of its vital aspects would no longer be functioning or viable.
After having worked in Japan's fishing industry and at Tsukiji for 36 years, this is very clear to me.
Three most urgent needs for the sector are:
Government reform of Japan's fisheries resource management to ensure sustainability;
Modernization and renovation of Tsukiji-New Tsukiji market software and hardware to make them viable;
Effectively implementing these two essential objectives.

To ensure supplies of fish to sell and sushi to eat, Tsukiji must demand Japan's Fisheries Agency promptly initiate for each of Japan's fisheries:
Sustainable TAC (total allowable catch) levels;
IQs (individual quotas) or ITQs (individual transferable quotas) to facilitate profitable fishing;
Sound regulation of fishing seasons and methods, catch volumes, and fish sizes; and,
The means to ensure quotas and regulations are effectively applied and enforced.
The scientific management of Japan's Niigata Prefecture shrimp fishery is a successful Japanese example that can and should be imitated and applied throughout Japan.

Tokyo Central Wholesale Market seafood sales (mostly Tsukiji's), which peaked at 900,000 tonnes worth JPY 850 billion in 1990, fell to 527,542 tonnes worth JPY 452 billion in 2011, down 41 per cent and 47 per cent, respectively. The population of Tokyo was increasing during this period so the decrease in sales per capita is even greater. Experts predict this decline will accelerate after the shift to New Tsukiji market.


Fresh bluefin tuna auction. (Photo:

Terje Engoe)

The importance of Tsukiji has fallen sharply since 1980 for several reasons. First of all, supermarkets and other customers buy directly from suppliers rather than through Tsukiji. Secondly, Tsukiji does not demand accountability and responsibility of the authorities and its suppliers. Finally, some changes inevitably displace traditional roles of Tsukiji and other markets and Tsukiji has been neither flexible nor creative in responding to these changes.

To survive Tsukiji must accurately identify and emphasize the essential market functions it can perform well and modify, minimize or abandon those it cannot.

Tuna sales generate more revenue for Tsukiji than any other species category. Tuna, therefore, merits special attention. Furthermore, Japan's bluefin tuna fisheries and market exhibit the problems faced by both Japan's fishing industry and Tsukiji market.

Since 2004, after overfishing and depleting resources of mackerel, horse mackerel, and other species, Japanese purse seiners have indiscriminately been catching much spawning and immature bluefin tuna ("bluefin") off southwestern Japan. Ironically, Japan complains vehemently that Korean boats do this, but ignores the fact and effect of its purse seine fleet fishing for the same tuna. The size and quantity of the tuna caught has decreased greatly since the start of the fishing activity.

About 90 per cent of the current catch is small, immature and said to be under two years old. However, this cannot be fully verified. Why? A keen observer trying to determine the actual state of the tuna resource and fishery is barred from Sakai Minato, the port where the tuna is landed. His name is withheld. This irresponsible fishing activity and hiding the truth about it are not sustainable. They affect tuna fisheries throughout the range of the bluefin's migration the length of Japan, across the Northern Pacific Ocean and down the west coasts of US and Mexico.

This year Japan's catch of baby bluefin tuna to supply live to its tuna farms is down by 90 per cent, which is confirmed by bluefin farmers. How much of this sharp decrease is attributable to the mentioned tuna purse seine fleet is unclear.
Japanese tuna fishing fleet. (Photo: Tuna Seiners)
These purse seiners greatly reduce the value of the tuna they catch. They crush it with too much fish in the net and depress prices by overloading the market. Besides, they catch it when it is too small and low in value but they are not equipped to handle it well. This essentially unregulated purse seine fishing destroys the tuna resource and the market price, its own and for others fishing this resource. Consequently, they stimulate widespread demand for a Washington Treaty listing of bluefin tuna as a Threatened Endangered Species, which would stop the legal import of bluefin into Japan, drastically decreasing Japan's bluefin supply and restricting Japan's access to its favourite sushi item.
Rather than regulate purse seiners, Japan has recently restricted its bluefin tuna farmers, a politically less influential part of the industry. (New farming permits will not be issued and existing farms cannot expand.) This is a typical example of Japanese bureaucrats and politicians making a show of resolving a problem when in fact they are maintaining the status quo, avoiding responsibility, and discouraging improvement and change. Overcoming the power and inertia of these vested interests in Japan's politics, bureaucracy, and fishing industry would be a daunting task. However, if they are not challenged they will continue to destroy the integrity of the resource, the industry and the market.

The quantity, quality, and value of Japan's total fish landings have decreased from a 1984 peak of 12.8 million tonnes to 4.73 million tonnes in 2011. Tuna was a big part of it. In 1984 much of that fish was caught by Japan's distant waters fleet and sold at its central wholesale markets. Little of that fleet remains today so the comparison is indirect.

To save the resource and future business potential, Tsukiji and other markets should refuse to sell small bluefin and other immature fish. If markets did not handle it, boats would stop fishing for it. There would be more tuna in the ocean and it would grow larger before being caught. Eventually more tuna would go to market and stopping sales of small bluefin tuna would decrease the threat of a Washington Treaty listing.

We know Fukushima's nuclear pollution is another problem faced by Tsukiji and Japan's fishing industry. This and other aspects will be addressed in a subsequent article.
In conclusion, Japan's waters were some of the most productive fishing grounds in the world but that productivity is no longer sustainable. By effectively managing its fishery resources Japan could revitalize its fishing industry and market, become a sustainable economic model, and earn the needed respect at home and abroad.

Sushi will continue to prosper but Tsukiji and Japan's fishing industry are endangered. Their future is uncertain. Sushi is an evolving tradition successfully meshing the old and the new. Like sushi, Tsukiji and Japan's fishing industry are respected Japanese traditions. To continue their traditions they must evolve and incorporate new aspects.

By Bill Court
editorial@fis.com
www.fis.com