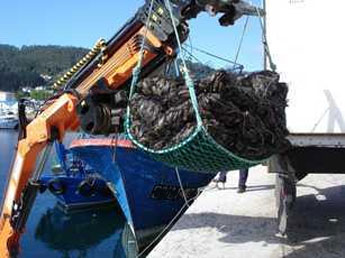 Mussel landing. (Photo: Stock File)
EUR 2.1 million fine imposed on Anfaco

SPAIN
Tuesday, November 27, 2012, 23:50 (GMT + 9)
The National Competition Commission (CNC) imposed a fine of EUR 2.11 million on the National Association of Manufacturers of Canned Fish and Shellfish (Anfaco-Cecopesca) for having coordinated the purchase of Galician mussel and thereby causing a fall in prices. For CNC, this measure represents unfair competition.
The record that led to the sanction was started last year after the research conducted as a result of a complaint presented by Anfaco in 2008 against the Distribution Platform of the Galician Mussel (Pladimega), whom the entity accused of price-fixing.
The CNC imposed sanctions for a total of EUR 1.8 million to 15 associations of producers for considering that they had used unfair competition practices.
However, following some information on the record for which such sanctions were imposed, in May 2011, the Investigations Division of the CNC decided to open disciplinary proceedings against Anfaco "for possible unfair competition consisting of a coordination strategy in order to impose certain purchase conditions on the Galician mussel producers."
In the resolution issued on 22 November, 2012, the CNC Council concludes that "the conduct adopted within Anfaco, namely the adoption of a coordinated trade policy on the purchase of Galician mussel by its affiliated companies in 2008, represents an offense under Article 1 of the Competition Defense Law."
The authority considers it has been credited the fact that "within Anfaco decisions were adopted among competing firms designed to temporarily paralyze the purchases of Galician mussel and to force producers to reach an agreement on the purchase terms."
Anfaco now has a period of two months to appeal the sanction at the state court through an administrative litigation.
That process has already been carried out by seven of the 15 associations that have been fined.
At the moment, at Anfaco it has been reported they "are legally analysing" the resolution.
Meanwhile, the chairperson of the Regulatory Council of Galician Mussel, Francisco Alcalde, said that the fine imposed on the canning firm "is not good news, in the same way as it was not so the sanction imposed on producers."
For Alcalde, the only "responsible" person for this problem is the general secretary of Anfaco, Juan Vieites.
"It is continually boycotting the good relationships among producers and traders so as to favour those who are either delocalized or are being supplied with foreign raw material, mainly from Chile," he denounced, as La Voz de Galicia reported.
Related article:
- Initiation of the sanctioning proceedings against Anfaco
By Analia Murias
editorial@seafood.media
www.seafood.media