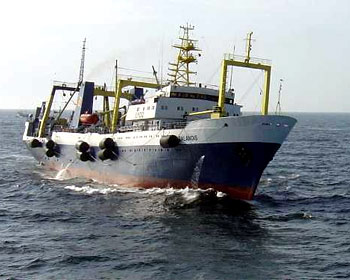 Lithuanian fishing trawler 'Balandis.' (Photo: baltlanta.lt)
EU pelagic trawler fleet unanimously condemn EU-Mauritania deal

MAURITANIA
Monday, August 06, 2012, 23:40 (GMT + 9)
Pelagic freezer trawler owners in the European Union (EU) have unanimously condemned the EU-Mauritania deal as "worthless." In the owners' view, African consumers and EU taxpayers are the "biggest losers" in the deal.

The new Fisheries Protocol was reached in Nouakchott, Mauritania on 26 July and was deemed unreasonable by the fleet as well as by EU member states involved in fisheries in Mauritania, including the main player, Spain.

In the agreement, the Mauritanian side increased the prohibited fishing zone from 12 to 20 mi and the compulsory donations of fish to Mauritanians and imposed this to all vessels fishing in Mauritanian waters. Financial conditions may be changed as well and firms refusing to comply with the new regulations will not be allowed to fish there.

All parties have sent official notes to the European Commission (EC), which must still ratify it, complaining about the terms and conditions of this agreement in the biggest and most valuable source for small pelagics in Africa.

"The EU pelagic fleet does not get any commercially viable fishing opportunities and fisheries in the region will not become any more sustainable. As a consequence, African consumers will have less access to affordable fish as valuable protein, African and European seamen will lose their jobs and EU taxpayers will not get any value for nearly EUR 70 million a year," stated Gerard van Balsfoort on behalf of the pelagic freezer trawler owners.

Further, pelagic fleet owners are being asked to pay an extra EUR 37 million, he said.
"In essence, the Commission intends to pay Mauritania millions for an empty shell," concluded van Balsfoort.

Vessel owners are threatening to leave Mauritanian waters, and they warn that such a response would result in thousands of Mauritanian seamen losing their jobs, no income going to the Mauritanian state from licences, no income to the ports of Nouadhibou and Nouakschott, no more reefer vessels and a lack of supply and over demand of fish throughout African countries, as nearly 100 per cent of the fish caught in Africa goes to African consumers.

"Shipowners state that working under these new conditions will not allow to work profitably, even if they try to, and eventually they will be forced to terminate their activities in Mauritanian EEZ," the pelagic fishery sector points out in a statement.

The ship owners in question include Lithuanian fishing company JSC Baltlanta, Murmansk Trawl Fleet, Alliance Marine and BJS Ltd.

Related articles:

- Three EU fleets not to use fishing permits in Mauritania
- New EU-Mauritania fisheries agreement causes concern in Spain
- Negotiations with Mauritania keep the Spanish on tenterhooks
By Natalia Real
editorial@seafood.media
www.seafood.media