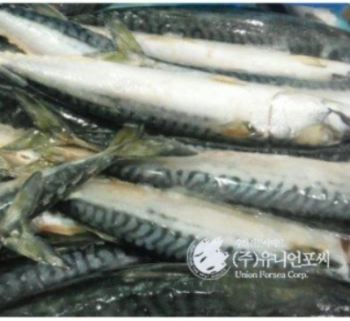 Photo: Union Forsea Corp.
Korean frozen mackerel imports

SOUTH KOREA
Tuesday, September 27, 2022, 06:00 (GMT + 9)
The amount of Korean import of frozen mackerel in August decreased by 46%
The average import volume for August from 2017 to 2022 was 1,018 tons, and among the last six years, the import of frozen mackerel was the largest at 44,363 tons in 2021 and the lowest at 21,648 tons in 2017.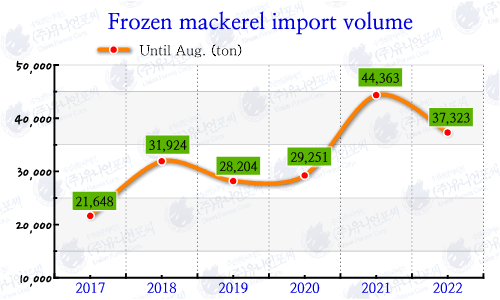 The main exporters of frozen mackerel are 10 countries, with 32,171 tons from Norway, 1,863 tons from China, 1,284 tons from the UK, 1,217 tons from Russia, and 341 tons from the Netherlands.
As for the average unit price of imports by country, Norway was the highest at USD 2.48/kg, followed by China USD 2.05/kg, UK USD 2.41/kg, Netherlands USD 2.16/kg, and Russia with the lowest unit price at USD 0.89/kg.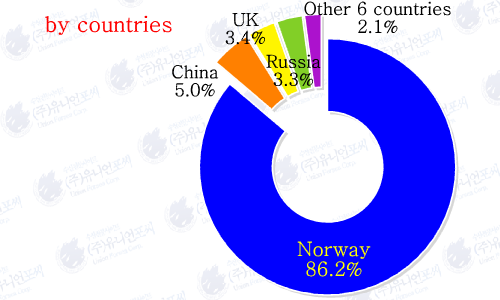 Frozen mackerel imports amounted to USD 250,000, down 46% from USD 480,000 in the previous year, and the accumulated amount was USD 89.3 million, an increase of 5% compared to USD 84.65 million in the previous year.
The unit price of imports in August was USD 3.97/kg, which is a 97.6% increase from USD 2.01/kg in the previous year.
Source : Union Forsea Corp.

editorial@seafood.media
www.seafood.media