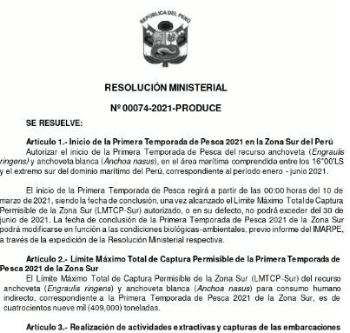 Ministerial Resolution 00074-2021-Produce
First season of anchovy fishing will begin on March 10 in the southern part of the coast

PERU
Monday, March 08, 2021, 06:00 (GMT + 9)
Ministry of Production established a catch limit of 409,000 tons until June 30

The Ministry of Production (Produce) authorized the start of the first fishing season for anchovy (Engraulis ringens) and white anchovy (Anchoa nasus) for indirect human consumption, as of March 10, in the maritime area between the 16º00'LS and the extreme south.

Ministerial Resolution 00074-2021-Produce also establishes a maximum allowable catch limit of the southern zone of 409,000 tons, with which fishing activities may not exceed said limit or exceed June 30 of this year.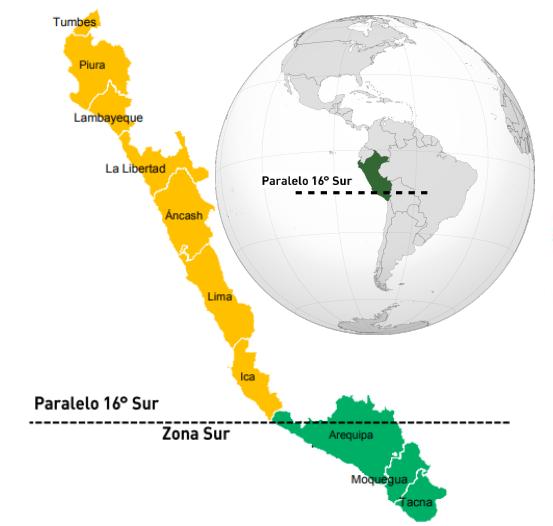 The decision was based on two research reports carried out in the aforementioned area by the Institute of the Sea of ​​Peru (Imarpe), in which it recommended, among others, to start extractive activity, and that strict control be maintained over the incidence of juvenile specimens. and resource entanglement events.

Registered vessels

Meanwhile, it details that only those vessels registered and authorized to carry out extractive activities during this season will be able to carry out fishing operations, in accordance with the maximum catch limit per vessel in the southern zone (LMCE-South), which will be published soon by Produce.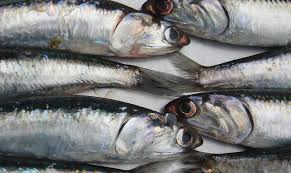 Other conditions for the development of fishing activity is to use seine nets with a minimum mesh size of ½ inch (13 millimeters) and carry out fishing operations outside the areas reserved for artisanal and smaller-scale fishing, according to the regulations. current.

Imarpe will inform the Vice Ministry of Fisheries and Aquaculture on the monitoring of the extractive activity of anchovy and white anchovy, referring to daily and incidental catches, fishing effort deployed, incidence of juveniles, among other indicators; recommending the conservation measures that are necessary to adopt.
editorial@seafood.media
www.seafood.media