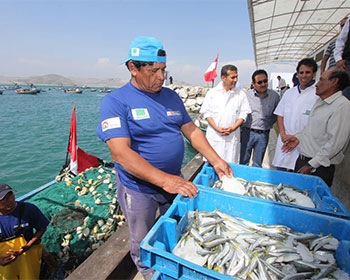 Artisanal landing site. (Photo: Produce)
Fondepes to invest USD 19 million in artisanal landing sites

PERU
Saturday, November 11, 2017, 00:00 (GMT + 9)
The National Fisheries Development Fund (FONDEPES) will invest PEN 62 million (USD 18.9 million) in updating and building 13 artisanal fishing seafood landing sites during 2018.

"The works will benefit more than 10,000 artisanal fishermen and their families throughout the country, which will help improve their life quality," said Minister of Production Pedro Olaechea.

"All these interventions will improve the working conditions of artisanal fishermen and allow them to operate in accordance with current sanitary norms and standards," he added.

Minister Olaechea indicated that the modern infrastructures that the landing sites will have will make it possible to expand the number of jobs through the new services generated, such as washing, evisceration, cold storage and ice production, among others.

He also mentioned that hydrobiological resources will be managed under adequate sanitary conditions, which will ensure that final consumers enjoy healthy products.

He also stressed that the modernization works will guarantee the safety conditions of the fishing workers, reducing the risks, mainly during the landing activities of the hydrobiological products.

It should be noted that this year the landing site reconstruction began in Cabo Blanco, Yacila, Quilca, Huacho, Supe and San Juan de Marcona.