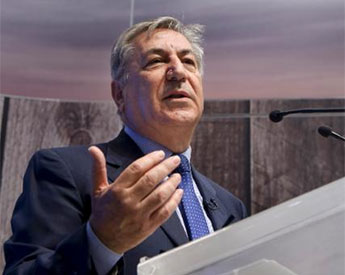 Karmenu Vella, , Commissioner for Environment, Maritime Affairs and Fisheries. (Photo: European Commission)
EC proposes TACs in the Atlantic and North Sea for 2018

EUROPEAN UNION
Wednesday, November 08, 2017, 02:50 (GMT + 9)
The European Commission (EC) has proposed fishing opportunities for 2018 for most commercial fish stocks in the Atlantic and the North Sea, which according to the European executive, will keep the stocks healthy, while allowing the fishing industry to profit from fishing the highest amount of fish.
As part of the presented proposal, based on the independent scientific advice received from the International Council for the Exploration of the Sea (ICES), the EC states that for 53 stocks the fishing quota is either increased or remains the same and for 25 stocks it is reduced.
The Commission also highlights that as the size of some key fish stocks is increasing – notably for sole in the North Sea, northern hake and southern horse mackerel – so is the profitability of the fishing sector, with an estimated EUR 1.5 billion profit for 2017.
"Our fleet is becoming more profitable and that is because some of the EU's key fish stocks are healthier and more abundant. The perseverance of the fishermen and the responsible fisheries management decisions stand to prove that sustainability and profitability can go hand in hand," pointed out Karmenu Vella, Commissioner for Environment, Maritime Affairs and Fisheries.
" That being said now is not the time for complacency. We must continue our joint efforts to manage our seas and oceans in a way that works for the environment, for the economy and for future generations, he added.
The EU has made important progress over recent years, with 44 stocks now fished at maximum sustainable yield (MSY) levels, up from only 5 in 2009.
The objective under the Common Fisheries Policy is to have all stocks fished at sustainable levels by 2020. The process towards this goal takes into account socioeconomic and environmental factors. As the legally binding deadline for the 2020 target draws closer, the margin for setting quotas that are not sustainable is narrowing. The Commission is working with Member States to support the fishermen in this transition.
This proposal, will be submitted for discussion and decision by the Member States at the December Fisheries Council and is to be applied as from January 1, 2018.
The new TACs cover stocks managed by the EU alone and stocks managed in cooperation with third countries, such as Norway, or through Regional Fisheries Management Organisations (RFMOs).


editorial@fis.com
www.fis.com