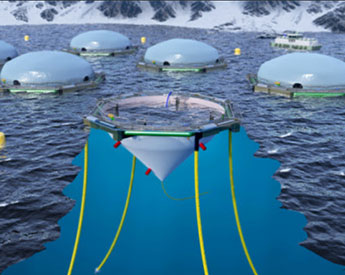 FlexiFarm is a floating closed containment system based on flow-through technology that advances closed containments to a new level. (Photo: Cermaq)
Cermaq develops innovative marine aquaculture system with water treatment

NORWAY
Wednesday, November 08, 2017, 02:00 (GMT + 9)
Cermaq has applied for 13 development licenses for its technological development FlexiFarm, a closed containment system with water treatment against infections.
The firm's representatives explain the technology development strengthens the competitive advantages of fish farming in coastal areas and addresses the concerns raised by politicians, authorities, NGOs, the firm's customers, and not at least by the industry itself.
The floating closed containment system treats the inflow of water for all infections before entering the containment and thus, it reduces losses in sea production, protect the environment against undesired impacts, increase productivity, and at the same time reduce production costs.
The system, developed by Cermaq together with Botngaard System, Xylem and Serge Ferrari as technology suppliers, makes it possible for the inflow of water to be filtered and then treated by UV-light to prevent intake of lice, algae, bacteria, and virus.
"In Cermaq we focus on innovations that improve sustainable farming on existing location in coastal areas. This approach characterizes this concept as well as the iFarm concept for individualized farming. Cermaq has leading expertise in farming technology and fish health, and has excellent prerequisites for succeeding in these ambitious innovations," pointed out Knut Ellekjær, Managing Director of Cermaq Norway.
For his part, Harald Takle, R&D Technology Manager in Cermaq Group, explained that the most severe challenge for Norwegian salmon farming is the losses during production in the sea, which is mainly due to pathogens and treatments against sea lice, which can be addressed through this new technological system.
Other advantages highlighted the system offers are the possibility of grinding and spreading the sludge to avoid point loads underneath the farming sites so no entire feed pellets will be discharged from the containment.
FlexiFarm will also have the possibility to collect the sludge. The discharge will then pass through a filter where the sludge will be collected and transported to shore for further processing.

editorial@fis.com
www.fis.com