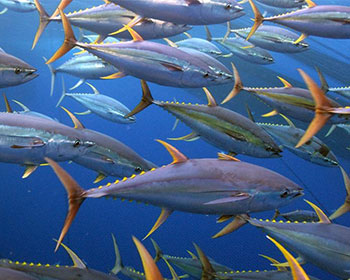 Yellowfin tuna. (Photo: WWF)
IPNLF urges ICCAT to further safeguard Atlantic tuna stocks

UNITED KINGDOM
Tuesday, November 07, 2017, 22:50 (GMT + 9)
The International Pole & Line Foundation (IPNLF) is urging the 50 country members of the International Commission for the Conservation of Atlantic Tunas (ICCAT) to immediately adopt much-needed management measures to deliver sustainable and equitable tuna fisheries in the Atlantic Ocean.

The immediate call is expressed in anticipation of this year's ICCAT meeting, which is to be held in Marrakesh, Morocco, on November 14-22 and is expected to address a number of problems, including the unsustainable catch levels of key tuna stocks.
The IPNLF stresses that the success and future of one-by-one tuna fisheries -- like Azores, Brazil, Madeira, Senegal, South Africa, Saint Helena, Northern Spain, Canary Islands, Ghana, Namibia, among others -- relies heavily on the responsible management of these highly migratory stocks by ICCAT member countries.
Specifically, the IPNLF urges ICCAT members to take action in the following four critical areas:
Fix the tropical tuna measure (2016-01) to reduce catches of yellowfin and bigeye to sustainable levels. At current catch rates, it is forecast that the bigeye tuna rebuilding target has a 62 per cent chance of failure;
Improve data collection and regulation of supply vessels and other undermanaged fishing gears that contribute to overall fishing effort, including drifting fish aggregating devices (FADs);
Adopt an interim Harvest Control Rule (HCR) for North Atlantic albacore, and advance the development of harvest strategies for other species to avoid adverse impacts on stocks and the coastal communities that rely on the fisheries for food security and livelihoods;
Adopt measures to reduce bycatches and to protect endangered, threatened, or protected species, including sharks, seabirds, cetaceans and turtles.
IPNLF has recognised that the 50 ICCAT Contracting Parties, Cooperating non-Contracting Parties, Entities or Fishing Entities (CPCs collectively) have made decent progress in recent times but it points out that despite the agreement made at the Commission's 2016 meeting to manage northern albacore in line with international best-practice and to apply a precautionary approach to fisheries management, ICCAT could not agree on concrete actions to address the high levels of juvenile bigeye and yellowfin caught in association with FADs, and the issue has only gotten worse.
"The Atlantic's one-by-one tuna fisheries support local livelihoods in isolated and developing economies, they enhance food security and provide a global supply chain with responsibly harvested tuna. Fishing communities around the Atlantic Ocean are looking to ICCAT decision makers to end overfishing and protect their futures," says Adam Baske, Director of Policy & Outreach at IPNLF."