Image: ISSF
Seafood Industry Leader Tony Lazazzara of Thai Union to Chair Board of the International Seafood Sustainability Foundation (ISSF)

UNITED STATES
Monday, December 05, 2022, 06:30 (GMT + 9)
ISSF Environmental Stakeholder Committee Welcomes New Member Andre Boustany of Monterey Bay Aquarium's Seafood Watch
The International Seafood Sustainability Foundation (ISSF) announced Tony Lazazzara of Thai Union Group as Chair of its Board of Directors. Mr. Lazazzara is Director of Group Fish Procurement for Thai Union Group. He succeeds Kevin Bixler, formerly of Thai Union, in the role, upon Mr. Bixler's move to Peter Pan Seafood.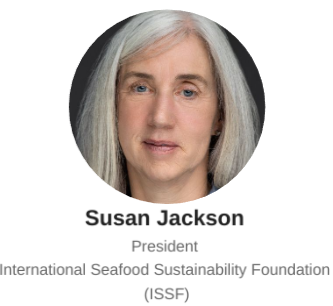 "I am thankful for Kevin Bixler's guidance over the last year as ISSF Board Chair, and I wish Kevin all the best in his new position as CEO at Peter Pan," said Susan Jackson, President, ISSF.
"I am excited to welcome Tony Lazazzara as our new Chair. Tony's deep industry knowledge and can-do attitude are an ideal match for ISSF's practical approach to improving the sustainability of global tuna fisheries," she continued. "We are fortunate to have a tenured and well-respected industry leader at our helm. I look forward to working with him."
"I am honored to follow in the footsteps of my colleague Mr. Bixler," said Mr. Lazazzara. "I hope to make this transition as smooth as possible, while ensuring continued progress and expanding new efforts towards sustainability for tuna fisheries and the marine ecosystem. I am excited to continue working with leaders in the seafood sustainability space, and I am eager to see what we can achieve together."
On the ISSF Board, Mr. Lazazzara joins a diverse and global group of leaders from non-governmental organizations, marine science, government agencies, and the seafood industry. In addition to fiduciary and governance responsibilities, ISSF Board members advance the mission of the Foundation, including through the adoption of ISSF conservation measures, to which ISSF participating companies commit to conform.
"In addition to welcoming our new Chair, I'd also like to recognize the contributions of longtime ISSF Board member John Connelly upon his passing," added Ms. Jackson. "As president of the National Fisheries Institute, John was an early and enthusiastic supporter of our organization. We miss John and his leadership, and we send our deepest sympathies to his family, friends, and colleagues."
Other ISSF Board members are:
Dr. Transform Aqorau, Pacific Fisheries Expert and former CEO, Parties to the Nauru Agreement (PNA)
Dr. Rohan Currey, Chief Science and Standards Officer, Marine Stewardship Council
Dr. Giuseppe Di Carlo, Lead Conservationist, WWF-International
William Gibbons-Fly, Executive Director, American Tunaboat Association (ATA)
Javier Garat, Secretary General, Cepesca
Bill Holden, Chair, ISSF Environmental Stakeholder Committee, Senior Tuna Fisheries Outreach Manager, Marine Stewardship Council
Susan Jackson, President, ISSF
Ichiro Nomura, Fisheries Policy Advisor, Ministry of Marine Affairs and Fisheries, Republic of Indonesia
Dr. Victor Restrepo, Vice President, Science, ISSF
Dr. Martin Tsamenyi, Professor of Law & Former Director of the Australian National Centre for Ocean Resources & Security (ANCORS), University of Wollongong, Australia
New ISSF Environmental Stakeholder Committee (ESC) Member
ISSF also announced a new addition to its Environmental Stakeholder Committee (ESC). Andre Boustany, Principal Investigator of Global Ocean Conservation at Monterey Bay Aquarium, joins the Committee, replacing Jennifer Dianto-Kemmerly, Vice President, Global Ocean Initiatives, Monterey Bay Aquarium.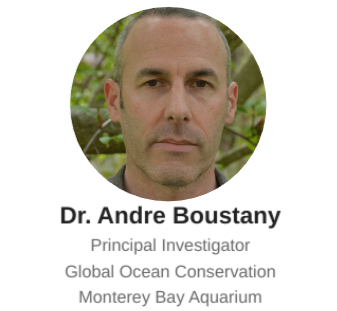 "We are thankful for Ms. Dianto-Kemmerly's expertise and know that we are in good hands as Dr. Boustany joins the Environmental Stakeholders Committee," said ISSF President Susan Jackson."We welcome the continued contributions of the Monterey Bay Aquarium as an invaluable partner in our work toward sustainable fisheries."
The ESC comprises expert representatives from various conservation organizations who volunteer to share their expertise. The ESC, much like ISSF's Scientific Advisory Committee (SAC), provides advice to the ISSF Board of Directors on issues to consider before taking action on specific sustainability efforts, including the adoption of ISSF conservation measures.
Other ESC members are:
Sonja Fordham, Founder, Shark Advocates International
Ben Gilmer, Associate Director of Corporate Engagement and Strategic Initiatives, The Nature Conservancy
Bill Holden, Chair, ISSF Environmental Stakeholder Committee | Senior Tuna Fisheries Outreach Manager, Marine Stewardship Council (MSC)
Sara Lewis, Traceability Division Director, FishWise
Dr. Vishwanie Maharaj, Lead, Tunas and Other Multilateral Fisheries, World Wildlife Fund-US
Dr. Alexia Morgan, Science Lead, Tuna and Large Pelagic Species, Sustainable Fisheries Partnership (SFP)
Dr. Tom Pickerell, Executive Director, Global Tuna Alliance
About Tony Lazazzara
Mr. Lazazzara is Thai Union Group Director, Global Fish Procurement, and has more than 30 years' experience in the seafood sector. He began his career with Palmera in Italy, followed by the U.S.-based StarKist. In 1997, he joined Heinz European Seafood. Today, he is part of the Thai Union team. Over the years, Mr. Lazazzara has held diverse roles in Supply Chain. His experience includes: General Manager Indian Ocean Tuna (IOT – Seychelles), General Manager European Facilities in Portugal and France and MW Brands Supply Chain Director prior to the company's acquisition by Thai Union.
About Andre Boustany
Dr. Boustany is the Principal Investigator of Global Ocean Conservation at the Monterey Bay Aquarium. Before coming to the Aquarium, Boustany was a research scientist at Duke University, where he studied pelagic fish and fisheries, looking at ways to improve stock assessments, reduce bycatch, and improve fisheries management. He also serves on several advisory committees, advising federal fisheries regulators on domestic and international management of pelagic fisheries. Dr. Boustany is also an active participant in the NGO Tuna Forum. Dr. Boustany earned a Ph.D. in Biological Sciences from Stanford University and a B.S. in Biological Sciences from Cornell University.
editorial@seafood.media
www.seafood.media