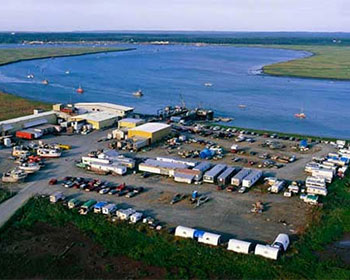 Kenai Plant. (Photo Credit: Inlet Fish Producers)
Marubeni's subsidiary acquires two Alaska salmon processing plants

(UNITED STATES, 7/1/2015)
Japanese trading giant Marubeni Corporation has announced that its wholly-owned subsidiary North Pacific Seafoods, Inc. (NPSI) has reached an agreement with Inlet Fish Producers, Inc. to acquire the Kenai Plant and Kasilof Plant to expand its Alaskan seafood operation.

With the acquisition of these two plants, NPSI's annual seafood production volume will increase by 5,000 tonnes to 62,000 tonnes and give the company access to the southern-central fishing grounds in which pink salmon and sockeye salmon are plentiful.

NPSI also expects more efficient production and purchase operations with the acquisition of the existing Kodiak Plant, located near Kodiak Island. Furthermore, NPSI can supply fresh salmon to the US market from the Kenai Plant, located near Anchorage - Alaska's largest city and logistics hub.

Alaskan seafood, including wild salmon, is well managed by US National Marine Fisheries Service and Alaska Department of Fish and Game. Their systems for wild seafood sustainability are highly regarded by consumers around the world. In this sense, it is also very significant for NPSI to increase Alaskan seafood production while securing these rare fish resources.

Since Marubeni joined the Alaskan seafood industry in 1972, they have been selling Alaskan wild salmon.

Marubeni assures it will continue to secure fish resources while developing sales and marketing strategies to Japan, the US, and the EU to enhance its stable seafood supply chain.

editorial@seafood.media
www.seafood.media
Information of the company:
Address:
1-4-2 Otemachi Chiyoda-ku,
City:
Tokyo
State/ZIP:
(100-8088)
Country:
Japan
Phone:
+81 3-3282-4782
More about: