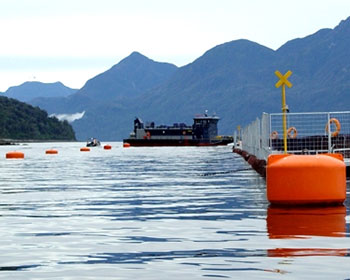 Salmon farm. (Photo: Salmones Humboldt)
Marubeni interested in entering the Chilean salmon industry

(CHILE, 4/16/2013)
Senior executives of the Japanese company Marubeni told the head of the Undersecretariat of Fisheries and Aquaculture (Subpesca), Pablo Galilea, that they are interested in enhancing their businesses in Chile.
"The Asian company wanted to talk about the potential that the Chilean salmon industry has and understand the scope of the new Fisheries Act. They are interested in the sector," said the undersecretary in reference to a business meeting held this month in Japan.
Industry sources told the newspaper La Tercera that Marubeni wants to follow the example of Mitsubishi and Mitsui.
In November 2011, Mitsubishi Corporation agreed to acquire the company Salmones Humboldt from Sociedad Pesquera Coloso, an operation by which the Japanese group confirmed its desire to start marketing Chilean trout and salmon.
And last December, Multiexport Foods SA, through its subsidiary Salmones Multiexport SA (Salmex), agreed with the company Mitsui & Co. on launching a joint venture dedicated to farming, processing and marketing trout and Pacific salmon.
The first operation involved the disbursement of USD 65.2 million, and in the case of Mitsui, an investment of USD 38 million.
According to the chair of the Association of Chilean Salmon Industry AG (SalmonChile), Maria Eugenia Wagner, the current industry "is moving towards consolidation," as companies are considering the long term.
In fact, the changes in ownership of the salmon companies continue with more mergers and acquisitions this year.
Earlier this month, the company Salmones Cupquelán – a subsidiary of the Canadian firm Cooke Aquaculture -- agreed to purchase 156,153,494 shares of Invertec Pesquera Mar de Chiloé (Invermar), corresponding to 54.07 per cent of the total, amounting to USD 20 million.
For Blumar director, Alberto Romero, the highest costs associated with the activity are largely the motor of the sector unions.
In this regard, he explains that the new stricter environmental and health requirements, and the increase in input costs cause a centre to require USD 15 million to operate, compared with USD 6.8 million that was needed before.
"To be a relevant player it is necessary to have at least 10 centres. We are talking about USD 150 million in working capital," added the entrepreneur.
Japan accounts for 89 per cent of shipments of Pacific salmon, 65 per cent of trout ones and 4 per cent of Chilean Atlantic salmon exports, stated Galilea in statements expressed to Diario de Aysen.
"We are pleased with the reception we have accomplished during this tour, for both in the public and private spheres, the Japanese stressed the virtues of Chile as a major producer of marine resources and demonstrated trust in the quality of fishery products of our country," pointed out the undersecretary.
Galilea also noted that there has been an agreement with the Minister of Agriculture and Fisheries of Japan, Yoshimasa Hayashi, to promote partnerships in aquaculture, especially in the development of algae cultivation and restocking.
Related articles:
- Salmones Cupquelán acquires 54pc of Invermar
- Multiexport and Mitsui create a company specialized in salmonids
- Mitsubishi to purchase Chilean salmon farming company

By Analia Murias
editorial@seafood.media
www.seafood.media
Information of the company:
Address:
1-4-2 Otemachi Chiyoda-ku,
City:
Tokyo
State/ZIP:
(100-8088)
Country:
Japan
Phone:
+81 3-3282-4782
More about: