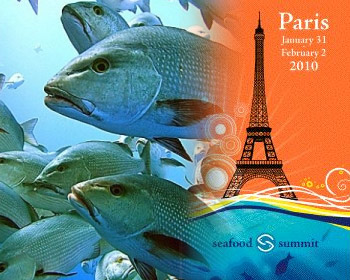 The success and challenges of the fish sustainability programs headlined talks at the Seafood Summit 2010. (Photo: Seafood Summit 2010/AMCS)
Seafood Summit 2010 full of incongruities

(WORLDWIDE, 2/9/2010)
A major discussion at the recent Seafood Choices' Seafood Summit 2010 was the role that global sustainable seafood certification programmes have in achieving sustainable fisheries and their function in creating societal change to shift consumption patterns towards responsible choices, according to the Australian Marine Conservation Society (AMCS).
The event, held in Paris, France, from 31 January to 2 February, brought together global representatives from the seafood industry and conservation community for in-depth discussions, presentations and networking with the goal of making the seafood marketplace environmentally, socially and economically sustainable.
Industry groups are choosing certification schemes like the Marine Stewardship Council (MSC) over the guides produced by independent NGO. And although MSC has been leading the sustainable seafood movement for a decade, the certification process is lengthy and over 90 per cent of global fisheries have not been assessed.
Also, the MSC programme only recommends fish to eat, not those to avoid.
Food/Lifestyle Reporter for ABC Steve Dolinsky highlighted the incongruities between industry interests and the MSC and conservation groups.
"So now I'm thinking, ok so wild fish is probably the best way to go, at least when it comes to buying a sustainably-raised product. But then someone shoves a flyer in my hands, telling me that the wild sockeye salmon from Canada's Fraser River has been endangered for years, and that [MSC] – the primary third-party certification for wild-caught fish in the world – is planning to certify the fishery there as sustainable anyway," he said.
According to AMCS, for seafood guides to be effective, they must grow to incorporate new factors important to overall fishery sustainability. The carbon footprint of different types of seafood could be included in the assessment of the sustainability of individual fish, and this would include local versus imported seafood.
The effect of overfishing on stocks over time. (Graph: Australian Marine Conservation Society )
There is also consensus that seafood guides alone are not sufficient to affect widespread change. The movement needs to climb the chain of supply and further influence restaurateurs, supermarkets, retailers, wholesalers and fishers and fish farmers, AMCS said.
Concurrently, fisheries management must be reformed and more marine reserves set up for oceans and fish stocks to recover, the society added.
Around half of the global fish consumption comes from aquaculture, yet no independent certification scheme for farmed fish exists. The Aquaculture Stewardship Council is currently in the works and will have to tackle the sustainability concerns over feeding wild fish to farmed fish.
Meanwhile, retailer chain Target has stopped selling farmed fish, and Dolinsky blames it on aquaculture's detrimental effects on wild stocks through the spread of disease and pollution, as happened with Marine Harvest's Chile operations.
The "startling" documentary Farmed Salmon Exposed, he continued, was screened at the summit and shows the effects of farm-raising salmon in Chile's waters. In response, Marine Harvest representative Peter Arnesen said his firm reported the infectious salmon anemia (ISA) disease issue three years ago and has actively worked to address the problem since.
"What I have learned here is that we, as consumers – and food professionals – need to be diligent and continue asking questions about the sources of our food," Dolinsky concluded.
Related articles:
- MSC ranked first in ecolabelling study
- The End of the Line for salmon?
- Experts clarify fishmeal processing efficiency ratios
By Natalia Real
editorial@seafood.media
www.seafood.media
Information of the company:
Address:
8401 Colesville Road, Suite 500
City:
Silver Spring
State/ZIP:
Maryland (MD 20910 )
Country:
United States
Phone:
+1 301 495 9570
Fax:
+1 301 495 4846
E-Mail:
info@seafoodchoices.org
More about: