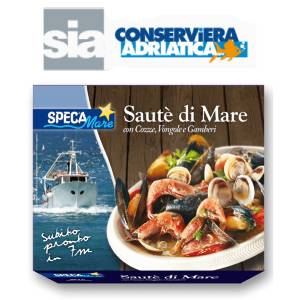 SIA & Conserviera Adriatica's range of products, in all their types, have become a synonim of quality.
Experts in Taylor-Made Seafood Products

(ITALY, 11/23/2022)
A continuous changing market scenario, a more and more demanding consumer and the growth of private label: those are the main aspetcts SIA & Conserviera Adriatica Group has selected as points of contact for what concerns the modern food service supply.
To achieve that result the company puts at its customers disposal more than 50 years of experience in food distribution, a deep knowledge of the cold chain supply and an entire whole made of three branches working in synergy.
Thanks to out productive skills developed during the last 60 years, SIA & Conserviera Adriatica has become one of Italy's leader for what concerns the private label food production.
Breaded shrimp, tasty shelled shrimps in a crunchy breading and Octopus with potatoes, tender octopus bites cooked with diced potatoes and a butter sauce.
The company's brands earned a significant reputation throughout the years: this reputation means quality in the eyes of the company's customers. SIA & Conserviera Adriatica 's brands, Speca Mare, Mare, Bonta'Doc and White Lab deliver a broad selection of products, a promise of quality and satisfaction.
SIA & Conserviera Adriatica creates not only branded products but also value to be applied to all the products specifically thought and realizer for its partners.
editorial@seafood.media
www.seafood.media
Information of the company:
Address:
Via P. Togliatti, 50 – Loc. S. Maria Goretti
City:
OFFIDA
State/ZIP:
Marche (63035)
Country:
Italy
Phone:
(+39)0736 888000
Fax:
(+39)0736 888004
E-Mail:
consad@tin.it
More about: