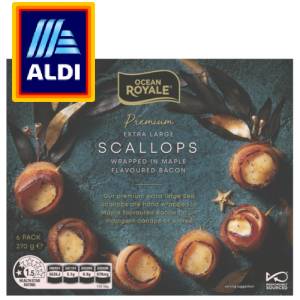 Each Christmas, ALDI work closely with their business partners to ensure shoppers have access to the best seafood at competitive prices.
ALDI Australia Launches Mouth-Watering Christmas Seafood Range

(AUSTRALIA, 11/11/2022)
Christmas has come early for seafood lovers with lobster, scallops, salmon and prawns selling for accesible prices to celebrate this festive season at ALDI.
Seafood's starring role on the Christmas table is a very Australian tradition, and ALDI is offering seafood staples and shopper favourites that will save both time and money during the Summer Seafood season.
Each Christmas, ALDI work closely with their business partners to ensure shoppers have access to the best seafood at competitive prices – including the return of the much-loved Lobster Tails, 1kg Extra-Large Australian Tiger Prawns, and Extra-Large Scallops with Maple-Flavoured Bacon.
Ocean Royale Lobster Tails with Garlic Butter Glaze and and Ocean Royale Frozen Australian Tiger Prawns Extra Large 1kg – Wild caught in Australia.
ALDI Australia Shopping Expert Kylie Warnke says ALDI's 2022 seafood selection has been carefully curated for summer entertaining, with quality, convenience, and price top of mind for Aussie families.
Kylie Warnke.
"Our amazing seafood range starts at just AUD 4.99 (USD 3.30) with every product easily prepared, making it perfect for those that want to delight family and friends without any hassle. Our Christmas seafood selection has everything from traditional favourites like Australian tiger prawns and salmon sides to decadent lobster tails", says Warnke.

"This year we have also extended our seasonal seafood to include new products like Aussie prawns and lobster canapés, which we're sure our customers will love".
"There's a seafood option to suit every budget in this range and we are confident every product will have guests impressed and asking for seconds, or even thirds!", added Warnke.
Three quarters of Aussies (74%) expect their spending to significantly increase in the 8 weeks leading up to Christmas, with the average cost increase expected to be 74.7%.
Premium Scallops paired with a rich Herbs de Provence Butter Sauce offering a delightfully subtle flavour.
About ALDI Supermarkets
With over 10,000 store locations around the world and 60 years experience to go with it, ALDI's story is a tale of unrivaled success. Since opening its first store in 1913, it has established itself as one of the most reputable and awarded retailers in the international business market.

ALDI Australia operates more than 570 stores in six states and territories, directly employing more than 13,500 people and working with more than 1,000 Australian business partners each day.
Premium Lobster meat with cream cheese and herb filling in a puff pastry for a perfectly indulgent canapé.
Source: ALDI

editorial@seafood.media
www.seafood.media
Information of the company:
Address:
Eckenbergstrasse 16, Postfach
City:
Essen
State/ZIP:
(D-45307)
Country:
Germany
Phone:
+49 201-8593-0
Fax:
+49 201-8593-319
More about: