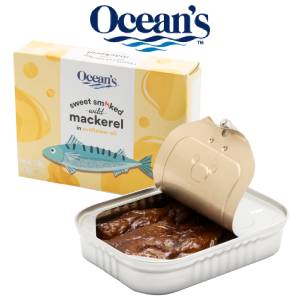 Sustainably sourced and flavor driven, Ocean's is stimulating demand for gourmet quality at accessible prices.
Ocean Brands Launches Ocean's Line Of Wild Caught Tinned Seafood In The U.S.

(CANADA, 9/22/2022)
Ocean Brands, a leading brand of sustainably caught fish for over half a century in Canada, is launching its Ocean's line of great tasting and affordable tinned seafood across the U.S. today. In partnership with the team behind Matiz, Ocean's is introducing eight varieties of succulent Brisling sardines and Mackerel filets. All Ocean's fish are wild caught in their prime using sustainable fishing practices and hand packed, without artificial ingredients.
Wild Mackerel Filets in Korma Curry.
As a certified B Corp since 2018, the team at Ocean's is committed to plastic neutrality, reducing the amount of plastic in their packaging, and offsetting the balance through 3rd party partnerships with Cleanhub and Tridi Oasis, a female led recycling company that specializes in PET.
Ocean Brands is a member of GGGI (Global Ghost Gear) an initiative focused on removing and recycling discarded fishing gear from our oceans.
Nola Martin.
"We couldn't be more excited to launch this line of highly sustainable, healthy and flavorful tinned fish to the growing market of U.S. consumers. Ocean's Brisling Sardines and Mackerel offer consumers fish that they can eat frequently without worrying about depleting the population of the species," said Nola Martin, Ocean Brands VP of Marketing.
"We're giving people fish that they want to eat, can feel great about eating and can afford to eat often."
"As the "tin-to-table" movement continues to grow in popularity in the U.S., our goal with the Ocean's line is to provide consumers the flavorful and sustainable products they are searching for while maintaining the high quality our customers have come to expect." said Kelly Burling, Chief Operating Officer of Culinary Collective.
"Once people try our exciting flavor profiles, they'll be hooked."
Wild Brisling sardines in Olive Oil and Wild Mackerel Filets with olive, red pepper and herbs.
Ocean's delicious tinned seafood allows consumers to enjoy the highest quality tinned seafood in recipe inspired, unique flavors.

Wild Mackerel Filets in Korma Curry

Wild Mackerel Filets with olive, red pepper and herbs

Smoked wild Mackerel with juniper & coriander

Sweet smoked wild Mackerel in sunflower oil

Wild Mackerel Filets in Jalapeno infused Oil

Smoked & peppered wild Mackerel

Mediterranean style wild Brisling sardines

Wild Brisling sardines in Olive Oil
Kelly Burling.
Mackerel is a saltwater fish in the same family (scombridae) as bonito and tuna. Ocean's mackerel is of the species Scomber Scombrus which are found in the cold waters in the North Atlantic. Out of both fresh and saltwater fish, Mackerel has one of the highest concentrations in Omega-3 acids, is low in mercury and a good source of protein.
Brisling sardines are small fish that inhabit the North Atlantic and are considered the tastiest, highest quality sardines available.
Unlike other sardines, Brislings are a specific species of fish, called sprats and have the highest concentration of omega-3 fatty acids out of all sardines.
With three times the calcium as a cup of milk, Brisling sardines also have the phosphorus and vitamin D needed for calcium absorption.

About Ocean Brands

Established in 1962 and located in Richmond, British Columbia,
Ocean Brands
is a Certified B Corporation and a leading supplier of canned seafood under the Ocean's®, Gold Seal®, and Millionnaires® brands.
Ocean Brands sources, packs and produces healthy, delicious and sustainable seafood while upholding the very highest standards in environmental and social governance as stewards of the ocean. Ocean brands is committed to plastic neutrality and is working to remove plastic waste from the environment.
Source: Ocean Brands

editorial@seafood.media
www.seafood.media
Information of the company:
Address:
Suite 100 - 3600 Lysander Lane
City:
Richmond
State/ZIP:
British Columbia (V7B 1C3)
Country:
Canada
Phone:
+1 604-242-0030
Fax:
+1 604-242-0029
E-Mail:
talktous@oceanbrands.com
More about:
Approval / Accreditation / Certified / Oversight by...