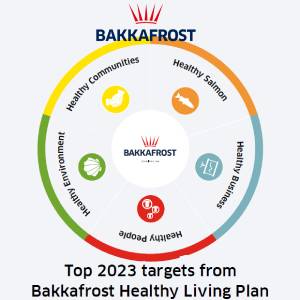 Bakkafrost's mission is to produce healthy, sustainable, world class salmon.
Bakkafrost Launches 2021 Summary Sustainability Report

(FAROE ISLANDS, 9/12/2022)
Faroese salmon farming company Bakkafrost has launched its 2021 Summary Sustainability Report.
Demand and requirements for sustainability reporting have been continuously increasing in recent years, and only since Bakkafrost launched its first sustainability report in 2017, the report has grown almost 100 pages.
This is a positive sign of improvement in sustainability reporting; however, Bakkafrost wish to communicate widely about its sustainability achievements to all its stakeholders, including the public. Thus, the need to create a shorter summary report containing important sustainability highlights has become even more evident.
Bakkafrost is the leading producer of top quality salmon from the Faroe Islands.The cool and steady sea temperatures of the North Atlantic Current in the Faroe Islands provides perfect conditions for raising healthy and robust Atlantic salmon.
Bakkafrost's 2021 Summary Sustainability Report is 20 pages long and contains infographics to give the reader a brief overview of the company's most important achievements in 2021.
Bakkafrost's fully owned subsidiaries: Havsbrún, Fuglafjørður (production of fishmeal, -oil and -feed); The Scottish Salmon Company, Scotland (Scottish Salmon producer, processing, and sales); Bakkafrost UK, Grimsby (salmon import and sales); Bakkafrost USA, New Jersey (seafood import, processing and sales); FÖRKA, Tórshavn (biogas plant).
Tordis Poulsen, Group Sustainability Director at Bakkafrost, said: "High-quality reporting is a prerequisite to advancing sustainable business practices. We cannot manage, what we cannot measure. We need quality data to show, how far we have come in achieving our sustainability goals, and it is of the utmost importance that all companies work accordingly to recognised reporting frameworks to ensure full transparency. Thus, we are delighted to be recognised for our continuous work to develop reliable and transparent sustainability reporting".
Bakkafrost's Healthy Living Plan outlines its sustainability goals in one place.
The summary report can be found here.
About Bakkafrost
P/F Bakkafrost is a Faroese salmon farming company based in Glyvrar on the island of Eysturoy in the Faroe Islands.
Bakkafrost is the largest fish farming company in the Faroe Islands, and is the biggest private employer in the islands. Bakkafrost is the third-largest fish farming company in the world.
Source: Bakkafrost
editorial@seafood.media
www.seafood.media
Information of the company:
Approval / Accreditation / Certified / Oversight by...