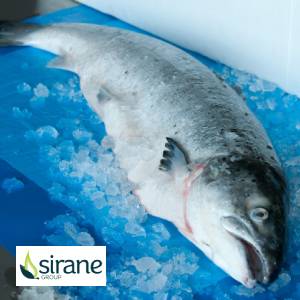 Dri-Fresh® Sea-FreshTM SP absorbent liners.
Sirane's Packaging Solutions From Sea to Plate

(UNITED KINGDOM, 5/4/2022)
Sirane has food packaging ranges that cover the whole seafood journey, from liners and mats for crate of fresh fish, right through to microwaveable ready-cook packaging.

Karl Heggarty, head of global sales, said: "Sirane's expertise in absorbency, oven and microwave-ready packaging materials and shelf-life means that wherever you fit within the supply chain, we are a company that has products perfect for you.

Karl Heggarty.
"From sea to plate and everywhere in between… whether you are catching and processing the fish, or selling it as a retailer, Sirane's range of packaging solutions can make a huge difference, whether to shelf-life, product presentation or profitability.

"Whether it's absorbency for the fresh catch straight from the boat, or a steam-cooking bag for over-the-counter retail sales of fish food, Sirane has the answers in our range."

Two products for the seafood industry which have proved popular have been Dri-Fresh Sea-Fresh SP – an absorbent crate liner with excellent wet-strength – and Dri-Fresh Sea-Fresh Ice-Mats, used to cover live seafood and maintain a steady release of fresh water to help optimise its condition.

Perfect for shelfish, such as lobster and crab, the ice-mats are used to protect the live seafood during transportation, and also protects against freezer burn.

Sirane's Dri-Fresh Sea-Fresh range of absorbent liners – Sea-Fresh SP being the newest addition – quickly and effectively absorbs the melting ice and juices released during transportation. The liquid is absorbed and trapped inside the Sea-Fresh liner to prevent spillage and reduce odour – increasing the saleability of the seafood.
Dri-Fresh® Sea-FreshTM Ice-Mats are laid over the crates containing live seafood – protecting the contents during transportation against freezer burn, as well as helping maintain a more constant temperature within the crate.
Other innovative solutions include micro- wave cooking bags, barbecue bags, and nylon that can be flow-wrapped. Karl Heggarty, head of global sales, said: "Our barbecue bag is perfect for seafood. The Sira-Cook Supreme bag is also ovenable – which might be a distinct advantage with the unreliable British climate – and allows a product with the sauce to be thrown on the barbecue. It's a simple solution, offering stunning taste.

"Our bag comes with a non-stick layer, meaning the fish won't stick to the bag. We can even perforate the layer and add flavours below, that permeate during cooking."

The bag is available in a number of sizes – including a large bag big enough to take a whole salmon – and in a standard and non-stick version perfect for seafood. It comes with a clear top panel – so users can see what's being cooked – and the bag can be heat-sealed.
Absorbent interleavers for smoked fish/meat – Dri-Fresh Eat-Fresh.
Steam-cooking bags are also a popular product in the seafood sector. Bags can be provided in a range of formats, including self-seal, multi-compartment and stand-up, as well as in a range of colours.

Sustainable packaging solutions in Sirane's Earth Packaging range include the plastic-free pouch Earthpouch, plastic-free film Earthfilm and the paper-based absorbent pad Earthpad. Sirane also has recyclable plastic films.

Mark Lingard, Marketing Manager, said: "Sirane's Earth Packaging range is focused on developing sustainable, recyclable packaging solutions. They include paper-based solutions (plastic-free) and easily-recyclable mono-layer plastic solutions. Our newly-launchd Earthpouch Supreme, for example, is a recyclable, plastic-free paper-based flat pouch which is ovenable and ideal for seafood, while our RePEat film offers recyclable PE-based films."
Eat-Fresh™ absorbent interleavers are specifically designed to absorb only the excess oil generated in smoking fish and game meats, ensuring optimum presentation.
Sirane also offers thermally-insulated products, including standard bags and anti-microbial bags- which are recyclable, and can also be custom printed/branded as required.
About Sirane
Sirane is an NPD product and process development company with full manufacturing capabilities – with four main divisions: food packaging; medical & healthcare; horticultural & specialist packaging. Whereas most companies are manufacturing operations supplying a range of products, Sirane looks at your requirement and designs and develops a solution that does the job.

The company mainly operates in three specialist areas: absorbency; bags, pouches & films, and board products.


Sirane's headquarters are in Telford, Shropshire, UK. The company was founded by in 2003 with the simple objective of providing a new pace of innovation and level of service to the packaging industry. Co-founder Simon Balderson is still managing director to this day. Sirane now has manufacturing facilities in the UK at three sites – all in Telford, Shropshire – and overseas in the Czech Republic and Mexico, offices/representation in the UK, Australia, Czech Republic, Mexico & South Africa.
Source: Sirane
editorial@seafood.media
www.seafood.media
Information of the company:
Address:
European Development Centre, Stafford Park 6
City:
Telford
State/ZIP:
Shropshire, England (TF3 3AT)
Country:
United Kingdom
Phone:
+44 1952 230 055
E-Mail:
sales@sirane.com
More about: