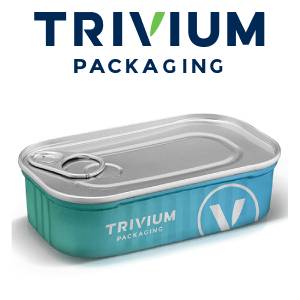 Trivium's metal packaging is 100% infinitely recyclable.
Take your Seafood Brand to the Next Level

(NETHERLANDS, 10/25/2021)
Trivium is the global leader in 100% infinitely recyclable metal packaging for seafood. Trivium's broad portfolio of products is enhanced by a track record of innovation and global production capabilities.

The company's seafood product portfolio includes over 150 different shapes in steel and aluminum, including: Club, Oblong, Pear-shape,Hansa and Dingley. Trivium's packaging is adaptable to all types of seafood products, processing methods and local consumer preferences.

For single-serving products, Trivium offers 1/4 and 1/6 can types with direct print on the body and closure for maximum impact. These cans are easily stackable, offering excellent logistical efficiencies.
Trivium offers a variety of metal packaging to the markets it serves with innovative shaping and opening solutions.
Trivium also offers state-of-the-art 2- and 3- piece DRD equipment for short-run innovative packaging with full-colour print. A wide range of opening solutions, such as Easy Peel and Easy Open, ensure protection of your valuable contents while delivering convenience to your customers.

Innovation and Decoration

Trivium provides the flexibility, know-how and expertise to manage complex printed metal packaging portfolios. The company's R&D Centre employs over 100 designers and scientists that partner with customers to develop a range of award-winning product, material and processing innovations.

For example, Trivium's Easy Peel® end was developed as a safe and easy-to-open packaging solution. It combines excellent functionality with a weight that is up to 50% lighter than a standard end.
The Trivium Tripod® can features an Easy Peel® lid and combines white PET and white PP to give the pack a distinctively fresh and hygienic appearance. Its specially designed base profile allows for safe stacking by minimising foil indents on the peel-off membrane.
With a global footprint and production facilities in all the main canning zones, Trivium is a well-established part of the seafood processing community.
Trivium's decoration expertise and capabilities add to the value of its products. In-house graphic centres are supported by full-colour printing machines that use the latest technologies to produce stunning decorative effects. Trivium offers an online 3D Design Studio so you can see how your design will look on the cans. Or take advantage of an unique Digital Colour Proofing technology that enables central colour management and digital proofing on actual metal cans.

Global Footprint, Local Expertise

Trivium's R&D Centre, which conducts thorough testing of metals and coatings, works with customers to define the most suitable specifications for their packaging with continuous optimization and down gauging.

These capabilities are supported by production facilities in all the main canning zones. The company's expertise in wall-to-wall can production ensures a secure, reliable and cost-effective means of supply, even for canneries in remote locations such as the Seychelles.

Trivium's experienced Technical Service Teams are always on call to support customers with all aspects of can filling, seaming and processing.

Awards Pile Up for Trivium Can for Orkla Foods

Trivium's "Hansa" shaped seafood can for Orkla Foods Norge's Stabburet mackerel filet was one of the most awarded cans in the world in 2019. It garnered a WorldStar Packaging Award; was named Canmaker's Can of the Year; and received a Cannex Gold award, an AluFoil Trophy and was recognised at Starpack for engineering innovation.
Metal is the preferred packaging for seafood products, providing the quality, sustainability and shelf life consumers trust.
The can features an exceptionally light, yet rigid, body, manufactured from 0.19 mm gauge aluminium and fitted with an Easy Open end. It was produced in 60 different striking designs marking different towns and cities in Norway.

Creating the World's Lightest Seafood

Pioneering work at Trivium's aluminium can plant in Cuxhaven, north Germany, supported by the R&D Centre, resulted in the production of the world's lightest aluminium seafood can.

The shaped Dingley can achieves a wall thickness of 0.170 mm, a significant advance over its nearest competitor at 0.215 mm. Despite it's ultra lightweight, it retains the stability of a standard can and can be fitted with an Easy Open ring-pull lid.
Trivium delivers the production capacity, product portfolio and innovation seafood manufacturers need to increase the value of their brand.
About Trivium

Formed by the merger of industry leaders Exal Corporation and Ardagh's Global Food & Speciality business, Trivium Packaging offers customers around the world innovative and sustainable packaging solutions supported by scalable production and outstanding customer service.

Trivium offers a variety of metal packaging to the markets it serves with innovative shaping and opening solutions. The company utilize a number of shaping technologies, including mechanical expansion and blow moulding, to develop standard and custom shapes based on product and brand requirements.

With more than 60 locations across the globe, Trivium have the scale and resources to handle any size project. The company's specialists work with customers throughout the process to provide the support they need.
Source: Trivium

editorial@seafood.media
www.seafood.media